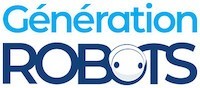 My Cart
0
item(s)
-
€0.00
There are no more items in your cart
Autonomous robots - mobile robots, robot arms, humanoid robots
Generation Robots has been providing robots to many research and innovation centers around the world since 2011. We distribute advanced robots designed to address many automation scenarios. We supply mobile robots for research applications, robotic arms for high accuracy tasks, collaborative arms for efficient human-machine collaboration, as well as humanoid robots for human interaction tasks.
Most of our robotic platforms are ROS-compatible.
Mobile robots
Our mobile robots are designed to move autonomously in all kinds of environments, without any human involvement. They can be easily fitted with sensors or cameras to navigate safely in complex environments such as warehouses, construction sites, or challenging terrain.
Our mobile robots are designed to carry heavy loads, transports many type of goods, patrol and monitor sensitive areas, collect data and much more.
Robotic arms
Our robot arms can accommodate a wide variety of tasks, including education and training. They can be mounted on the mobile robots we distribute.
Collaborative arms (cobots)
Our collaborative arms (or cobots) are robotic arms that are designed to work in collaboration with human workers. They are equipped with force sensors to detect human presence and adjust their behavior accordingly. They can be mounted on the mobile robots we distribute.
Humanoid robots
Humanoid robots are equipped with sophisticated sensors and cameras to interact with their environment and perform meet-and-greet tasks. The humanoid robots we distribute are used in a variety of applications, such as greeting people in museums, being in charge of visitors in showrooms, etc.
Customer service and robotic integration
At Generations Robots, we are proud to distribute high quality autonomous robots that can help increase efficiency and productivity in your business. Our robots are designed to offer top performance, durability and reliability. We are also able to provide full technical support to help you fully utilize the capabilities of our robots and easily integrate them into your business.
Generation Robots also has its own robotics engineering department, capable of meeting demanding specifications. We specialize in the creation of software and algorithms that are essential to the operation of autonomous robots (mapping, localization and navigation based on SLAM, data fusion, etc.).