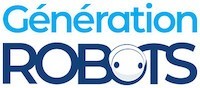 My Cart
0
item(s)
-
€0.00
There are no more items in your cart
LiDAR sensors for robotics and automation
LiDARs allow you to map your environment quickly and accurately. They are a key add-on to any mobile robot (or any autonomous vehicle that rolls, flies or swims) or automated machine that requires a safety zone.
What is a LiDAR sensor?
LiDAR stands for "light detection and ranging". It is a method for determining variable distance based on the time for a reflected light to return to its receiver. In addition to measuring distances and sense obstacles, a LiDAR can create a 3D map of its surrounding environment.
This technology has been a small breakthrough in the field of archaeology, for example. It also enables autonomous vehicles to "visualize" their environment in real time.
How does LiDAR work?
LiDAR technology is similar to radar (which uses radio waves) or sonar (which uses acoustic waves). A laser beam is emitted, bounced back from a surface, and then sent back to the detector. LiDAR then calculates the distance to the target. By using light (laser beam), which speed is a constant value, LiDAR is much more accurate than the other two technologies.
Knowing the position and orientation of the sensor, the XYZ coordinate of the reflective surface can be calculated. It is represented by a point. By repeating this process many times (short pulses of laser beam), the device builds up a complex 'map' made up of all the points that it collected.
For a detailed explanation of LiDAR technology, feel free to read our blog post on the subject, entitled What is LiDAR technology?
LiDAR: its different applications
LiDAR is a great alternative to various types of proximity sensors. It is used in many sectors, and for wide varety of missions.
Here are a few examples of applications:
Environmental monitoring:

Forest monitoring, fight against deforestation
Study of atmospheric or volcanic activity
Biodiversity evolution

Modeling :

Tsunamis and floods
Road accidents

Human activities monitoring:

Agriculture management
Pollution rates
Tourism management

Maintenance :

Bridge inspection
Wind speed and wind turbine surveying

Exploration :

Archaeological and oceanographic discoveries
Oil and gas exploration

Robotics :

Autonomous cars
Delivery of meals, mail, by autonomous mobile robots
Security on sensitive sites
Creation of safety zones around industrial robots
LiDARs are often coupled with other robotic platforms such as humanoid robots, mobile robots, drones, robotic arms, etc.
LiDAR 2D vs LiDAR 3D
3D LiDARs are a more extensive solution, but they are more expensive than 2D LiDARs. However, the former will be more interesting for warehouse automation projects in the medium/long term. Find out why in our blog post "2D LiDAR vs 3D LiDAR".
Our main LiDAR brands