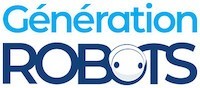 My Cart
0
item(s)
-
€0.00
There are no more items in your cart
Robotics arms and manipulators
Fast, accurate and restless, collaborative robotic arms will boost your productivity! "Cobots" are designed to work alongside their human colleagues, making the most of human-robot interaction.
Collaborative robots: real assistants for human operators
Most of our collaborative robots are ROS compatible. A "cobot" acts as an assistant, and can work selectively on complex and delicate tasks that cannot be automated. It also has learning features.
The benefits of collaborative robots
Collaborative robots feature many embedded sensors, which enable them to assess accurately their surroundings. They are configured to stop as soon as they perceive an obstacle on their path.
Thanks to this system, it is possible to easily and safely  deploy cobots along the production line next to operators, who will work safely next to these robots (no need for expensive and imposing safety cages).
A cobot can pick up an object and give it to a human.
In the workplace, collaborative robots are tasked with carrying out tough (safe handling of hot or awkward workpieces) or very low value-added jobs. Technicians can then focus their attention on their core business and create more value added.
This way, human intelligence is refocused on other aspects of the manufacturing chain.
No need to be a computer programmer to use cobots to their full potential, these robots can be easily reprogrammed, moved and redeployed.
Generation Robots, distributor of Doosan Robotics and FRANKA EMIKA arms
Doosan Robotics and FRANKA EMIKA are the most advanced brands of collaborative robotic arms in industry and research.
Doosan Robotics: an industrial quality collaborative robot
Doosan Robotics are industrial grade robots designed to work collaboratively with the operator, in the same workspace. Their state-of-the-art A-series robots feature speeds and acceleration twice as fast as the market standard, while meeting advanced safety standards. The H2515 robot can carry a load of 25kg, which makes it particularly suitable for palletizing/unpacking operations.
FRANKA EMIKA: a versatile robot for research and application development
The Franka Research 3 robot arm from FRANKA EMIKA is a plug-and-use robot more focused on research and development. Combining accuracy, C++ and ROS integration, at an affordable price, the FR3 robotic arm is a Plug-and-Play platform approved by universities and research laboratories. 3 access levels to the robot address different needs and skills:
DESK is the high-level workflow-based programming interface, designed to facilitate the implementation and testing of new applications. No programming knowledge is required to use DESK.
RIDE is the development interface for creating your own DESK applications and connecting external hardware to the Franka Emika Research 3.
The FCI interface allows the user to control and program the FR3 robot in C++ and to to explore low-level programming and control schemes. Integration of ROS and MoveIt! is also possible.