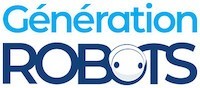 My Cart
0
item(s)
-
€0.00
There are no more items in your cart
List of products by brand UBTECH Robotics
Teachers of secondary school pupils sometimes have difficulties finding good methods for sparking interest in subjects. Because we're living in a digital age, this Alpha Mini humanoid educational robot is the perfect solution to this problem. He can help you teach many subjects in an original way while also giving pupils a chance to try their hand at programming.
ONLY ON REQUEST
This AI curriculum is an educational booklet for the Alpha Mini robot. It allows children from the age of about 9 to 11 to grasp the first concepts of artificial intelligence and programming, using the humanoid Alpha Mini robot.
Product available for orders
Cruzr is a new-generation service robot, an autonomous humanoid robot designed to optimise relations both with customers and between company employees.
Out-of-Stock