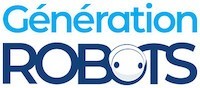 My Cart
0
item(s)
-
€0.00
There are no more items in your cart
Humanoids and human-robot interaction
Humanoid robots are robots with a human or anthropomorphic appearance, with a body and limbs similar to those of a human being. These robots are designed to interact with humans naturally and intuitively, thanks to sensors and programs that allow them to recognize human gestures, facial expressions, and emotions.
Interactions between humans and humanoid robots are becoming increasingly common, and these robots are used in various fields such as education, industry, healthcare, entertainment, and research.
Here are some examples of humanoid robots designed for education and learning:
Alpha Mini, a robot for learning programming
Alpha Mini is an educational humanoid robot developed by UBTECH Robotics. This robot is designed to help middle and high school students learn the basics of programming and robotics in a fun and interactive way. Alpha Mini is about 25 cm tall and has several sensors, speakers, and LED lights. Students can use a mobile app to program Alpha Mini and give it instructions to perform various tasks. A true learning companion, it can also offer various activities related to writing, reading, history, or math.
Robotis Kits: create your humanoid robot
Robotis Kits are sets of parts and software designed to allow users to create custom humanoid robots. The kits include mechanical parts such as servomotors, control modules, chassis, and software to program the robots and make them work. They are trendy among robotics enthusiasts, educators, and engineering students. They offer great flexibility in terms of design and allow users to create robots with a wide variety of movements and abilities.
Poppy, an open-source humanoid robot
Poppy Robot is built from 3D-printed parts and is equipped with dynamic motors, sensors, and cameras. It is designed to be easily customizable and programmable, with an intuitive user interface and an open-source software development environment. Poppy is often used in schools and universities to teach robotics and computer science, as well as in research labs to explore the possibilities of humanoid robotics. In addition to its educational use, Poppy has also been used for applications such as human-robot interaction, motion recognition, and autonomous navigation.