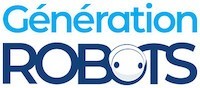 My Cart
0
item(s)
-
€0.00
There are no more items in your cart
FP04-F55 Dynamixel Cable Holders (×20)
Robotis put together this pack of 20 FP04-F55 Dynamixel Cable Holders to more efficiently organise Bioloid robot cables.
Including €0.02 for ecotax
FP04-F55 Holders: organise and protect your cables!
Use these FP04-F55 holders to avoid running the risk of getting your cables tangled up or trapped in your robot's joints. Even in a compact or complex architecture, you'll be able to tell at once which cable is being used for which servo: essential for a robot in good working order!
Dynamixel Cable Holders: designed for your Bioloid robots!
The Bioloid kits enable mechatronics enthusiasts to create robots that are sometimes highly sophisticated, for educational purposes or simply for enjoyment. The FP04-F55 Holders are specially intended for organising and holding the Bioloid robot cables used to connect your Dynamixel servomotors.
Some kits contain as many as 18 Dynamixel servos for the same machine – so you can see why these FP04-F55 fixings are likely to come in very handy!
Technical specifications of the FP04-F55 Dynamixel Cable Holders
This set includes:
20 plastic FP04-F55 holders
40 × S1 screws (PHS M2×4 TAP K)
Customers who viewed this item also viewed