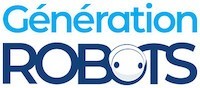 My Cart
0
item(s)
-
€0.00
There are no more items in your cart
List of products by brand Kinova
Kinova is a Canadian manufacturer specializing in lightweight and collaborative robotic arms. Founded in 2006, their products are designed to provide assistance to individuals with reduced mobility and to automate industrial tasks. Kinova is distinguished by its commitment to accessibility and technological innovation in the field of robotics. Kinova Robotics offers several renowned products, including the Gen 3 and the Gen 3 Lite. The choice between these two models depends on the specific needs of the user and the application, as well as the available budget. Kinova's Gen3 is more powerful, suitable for advanced applications, while the Gen3 Lite is lighter and more affordable, ideal for simpler manipulation tasks.
Discover Gen3 Lite, an affordable solution designed for education and business needs, adaptable to all skill levels.
Discover Gen3, a revolutionary robot designed for innovative research and development, adaptable to all levels of expertise with both basic and advanced control.