Génération Robots to distribute the Baxter robot in Europe
Bordeaux (France), Boston (USA), August 2013
Generation Robots has been chosen by Rethink Robotics to market the research and education version of the Baxter robot in Europe.
Rodney Brooks, former director of the MIT Computer Science and Artificial Intelligence Laboratory (CSAIL) and co-founder of iRobot, created Rethink Robotics in 2008 with the ambitious aim of revolutionising industrial robotics. Since the end of 2012, Rethink Robotics has made the humanoid Baxter robot available with the stated goal of automating repetitive tasks of little added value in very small companies to improve their competitiveness and thus protect jobs in industrialised countries and avoid relocation.
The Baxter robot is what is commonly called a cobot, in other words a collaborative robot. Unlike traditional industrial robots, whose implementation calls for a certain degree of expertise and which need to be isolated using cages to ensure the safety of operators, the Baxter is quick, easily implemented, and safe. Workers can evolve alongside the robot, interact with it in complete safety, and thus ultimately benefit from a new kind of human-robot interaction capable of improving overall productivity.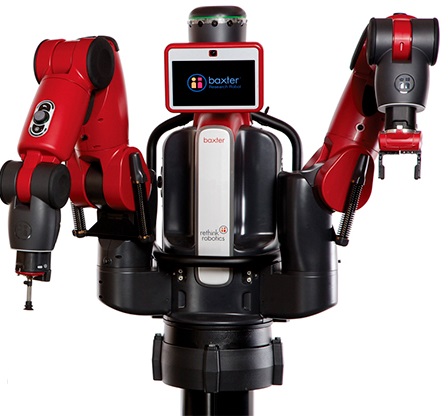 The distribution agreement signed between Génération Robots and Rethink Robotics currently concerns the research and education version of the Baxter robot, which is being marketed in Europe before the arrival of the corporate version in the second half of 2014. This research and education version can be acquired by universities, research laboratories and the R&D departments of businesses with the aim of improving their expertise in this revolutionary world of collaborative robotics. The Baxter robot lends itself very well to research and teaching in many areas, including robotics, artificial intelligence, control, handling, planning, human-robot interaction, computer science, mechanics and electronics.
Génération Robots has already been placed in charge of distribution, hardware support, training and spare parts for the Baxter robot across the whole of Europe.
"Their teams' technical expertise and know-how in the field of support and training naturally incited us to choose Génération Robots for the marketing and sale of the research and education version of the Baxter robot in Europe. Given their involvement in the research projects and their in-depth knowledge of academic environments, we are confident that Baxter's customers will quickly realise that Génération Robots is the ideal partner for helping them achieve their goals," says Rodney Brooks, Chairman and Chief Technology Officer of Rethink Robotics. Founder of Génération Robots Jérôme Laplace is impressed by the Baxter's quality: "The Baxter Research robot has everything needed to win over teachers and researchers: it is a high-quality collaborative robot, it is safe, easily implemented, uses ROS – the standard in open source programming in service robotics – and above all it is unbeatable in terms of price."
Robot Operating System
ROS is a standardised, free and open source operating system for robots that has made a definite contribution to the development of robotics. The Baxter Research robot comes with a ROS-compatible SDK.

About Rethink Robotics
As its name suggests, Rethink Robotics has set itself the task of rethinking industrial robotics by providing a unique solution capable of automating tasks that are not usually automated, and at a cost without equivalent on the market. The objective of Rethink Robotics, and of its founder Rodney Brooks, is to allow SMEs to become competitive once more and to gain in quality to protect jobs in industrialised countries.
More about Rethink Robotics at: http://www.rethinkrobotics.com/
About Génération Robots
Created in 2008 and based in Bordeaux, France, Génération Robots is a leading European distributor of service robots and related accessories, sensors and development software. With its tri-lingual website and customers all over the world, Génération Robots has become a favourite source of pioneering projects for robot enthusiasts. Génération Robots is also very involved in the academic arena (universities and similar institutions) and in education in general (secondary schools) across Europe.
For more information about Génération Robots, visit http://www.generationrobots.com
About HumaRobotics: HumaRobotics is the brand name for products and services offered by Génération Robots. Through this brand, Génération Robots R&D staff offer pioneering robotics hardware (sensors and accessories), their expertise in robot programming and artificial intelligence, plus a range of training courses intended for the education and business sectors alike. HumaRobotics' skills are mainly focussed on robotics, embedded systems, artificial intelligence, advanced algorithms and artificial vision.
For more information about HumaRobotics, visit http://www.humarobotics.com
More about the Baxter Research Robot at: http://www.humarobotics.com/baxter-robot-from-rethink-robotics/baxter-robot-for-research-in-europe.html