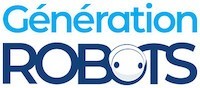 My Cart
0
item(s)
-
€0.00
There are no more items in your cart
List of products by brand Franka Emika
Based in Munich, Franka Emika is a German company that manufactures collaborative arms for industrial robotics. Agile like a human arm, the FR3 robotic arm has 7 degrees of freedom: it can assist and perform complicated and dangerous tasks. It is capable of carrying a maximum load of 3 kg and has a maximum reach of 860 mm. The intuitive "Desk" interface, accessible online, makes it very easy to get started (in 15 minutes flat).
The Franka Research 3 is equipped with an integrated force and motion sensor system, which allows it to detect obstacles and unexpected contacts, and to immediately stop in case of danger.
With its versatility and high precision, the Franka Research 3 robot arm can be used in different areas: production line, hospital or nursing home, laboratory, logistics platform, research, R&D, etc. It is easy to program the FR3 and interface it with additional sensors (packages and libraries for C++, ROS and Movelt).
With this gripper, the FRANKA EMIKA robot is able to lift a wide variety of objects. It's programmable and controllable via the "Desk" interface and the FCI (C++, ROS).
Delivery within 8 weeks