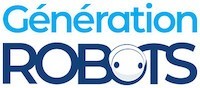 My Cart
0
item(s)
-
€0.00
There are no more items in your cart
List of products by brand Franka Emika
With this gripper, the Panda robot is able to lift a wide variety of objects. It's programmable and controllable via the "Desk" interface and the FCI (C++, ROS).
Product available for orders
PANDA is a collaborative robot arm with 7 DOF, developed by FRANKA EMIKA. The « Research » version allows its user to have a direct control and the possibility to program the robot, but also interface the robot with external sensors (C++, ROS and MoveIt! packages available online).

This "Research" App Bundle developed for the Panda Robotic Arm has been created for education and training. You can use these apps from FRANKA EMIKA's "Desk" interface.
Product available for orders