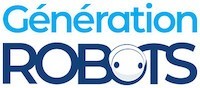 My Cart
0
item(s)
-
€0.00
There are no more items in your cart
3-Axis Digital Compass HMC5883L
The HMC5883L 3-Axis Digital Compass' accuracy makes it an essential component for integration into a navigation system to easily guide your
mobile robot
ou
drone
and make precise measurements in its environment. DISCONTINUED
Reliability of the 3-Axis Digital Compass HMC5883L
The 3-Axis Digital Compass HMC5883L sensor is able to acquire information even in a low magnetic field. Distributed over the three axes, this information is converted into a differential voltage of 2.7 to 6.5 VDC to provide input for a vast range of microcontrollers operating at different voltages.
The raw digital output value can be used to calculate direction and location, and for measuring both the magnitude and the direction of the Earth's magnetic field in cases where the robot needs to measure several magnetic fields coming from different directions.
For what type of project could the HMC5883L compass be chosen for?
The Parallax compass' configuration and digital interface make it ideal for integrating into a drone or the navigation system of a mobile robot both of which may be small. It can be easily programmed in PBASIC, Spin or C (examples are available for download).
You can see in the video below a use case of the 3-Axis Digital Compass HMC5883L:
Technical specifications of the 3-Axis Digital Compass HMC5883L
A wide range of magnetic field values covered with a precision of +/- 8 gauss
High compass accuracy with an error of just 1 or 2 degrees
Maximum output sampling frequency: 160 Hz
DC output from 3 axes, from 2.7 to 6.5 V, suitable for a wide variety of microcontrollers
Communication interface: I2C
Maximum communication frequency: 400 kHz
Dimensions: 1.8 x 1.7 cm
Window of operating temperatures: -30 to +85 °C
Resources for the 3-Axis Digital Compass HMC5883L
You will find more resources for the 3-Axis Digital Compass HMC5883L:

Datasheet the 3-Axis Digital Compass HMC5883L

Datasheet of the 3-Axis Digital Compass HMC5883L integrated board

Applications of the 3-Axis Digital Compass HMC5883L for Compass Systems

Applications of the 3-Axis Digital Compass HMC5883L in Navigation Systems

Source code for the 3-Axis Digital Compass HMC5883L

Example code for propeller spin with the 3-Axis Digital Compass HMC5883L
Customers who viewed this item also viewed