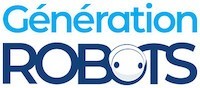 My Cart
0
item(s)
-
€0.00
There are no more items in your cart




Green City Challenge Set for Lego Mindstorms
The Green City Challenge Set for Lego Mindstorms is an ultra-fun add-on for the Lego Education set or the Lego Science and Technology set that allows you to create an actual green city!
9594 Green City Challenge Set for Lego Mindstorms: a new approach to learning robotics
Lego have created a series of fun and informative sets, including this 9594 Green City Challenge Set for Lego Mindstorms, a comprehensive add-on to your Lego Education Base Set and its software:
for learning (and teaching) the basic principles of numerous disciplines essential to robotics, not only construction, prototyping and programming (with the NXT software), but also physical science and the principles of mechanics, electricity, etc... in short, all sciences and technologies;
for implementing the knowledge acquired to build a truly ecological town, using renewable energies: a green Lego town!
Using the Lego Green City training and challenge mats
This add-on for the Lego Mindstorms Education Base Set and Software can be used in two distinct phases:
when experimenting with, creating and programming robotic devices (power plant, wind turbine, dam, etc.) on 3 training mats (6 educational programs); and
for each educational challenge successfully completed, participants win an energy brick for their green city powered using the various devices made beforehand (challenge mat).
Technical specifications of the Lego Mindstorms 9594 Green City Challenge Set
The Green City Challenge Set for Lego Mindstorms contains:
3 training mats
1 challenge mat
Lego Technic bricks
1361 various parts
From 9 years old
Attention: The Green City Challenge Set for Lego Mindstorms requires the Green city Challenge Activity Pack
Resources for the Green City Challenge Set for Lego Mindstorms
Green City Challenge Set for Lego Mindstorms Building Instructions
Customers who viewed this item also viewed