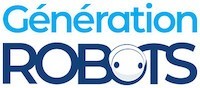 My Cart
0
item(s)
-
€0.00
There are no more items in your cart
Microstack: a new range of complementary accessories for Raspberry Pi
The Microstack range is a new range of accessories for Raspberry Pi B, Raspberry Pi A+, Raspberry Pi B+ and now the Raspberry Pi 2 model B designed by the creators of the PiFace expansion boards, already well known among Raspberry Pi users.
When designing their new accessories for Raspberry Pi, these PiFace geniuses wanted to continue with the idea of stackable blocks that are easy to both connect and implement.
The range currently includes a base board (essential for the other expansion boards to operate) and 2 modules for Raspberry Pi: one GPS module and one 3-axis accelerometer. Simply connect the Base Board to your Raspberry Pi to be able to rapidly install one of these modules, or even both modules at once!
3-axis accelerometer for Raspberry Pi: 1 module, 2 configurations
The 3-Axis Accelerometer for Raspberry Pi is a small, very low-power and ultra-high-speed Microstack module with many applications.
It can for example detect orientation, shaking on input devices and physical movements of all kinds (free fall, shock, trajectory, etc.). The accelerometer module's built-in MMA8491Q acceleration sensor offers 2 possible configurations: a 45° tilt sensor or a 14-bit digital output accelerometer. This module can be used in the design of 3D motion controllers and embedded navigation systems for drones and mobile robots.
Technical specifications of the Microstack Accelerometer
Very low power consumption: 400 nA/Hz
Ultra-high-speed data rate: ~700 µs
VDD supply range: 1.95–3.6 V
QFN case: 3 x 3 x 0.65 mm with visual solder joint inspection
±8g full scale range
14-bit digital output, 1 mg/LSB sensitivity
Sampling rate: < 1 Hz to 800 Hz
I2C digital interface (14-bit output)
3-axis, 45° tilt outputs
Compatible with the other products in the Microstack range
Can be combined with other Microstack extensions
Resources for the Microstack 3-Axis Accelerometer
Learn everything you need to know about the Microstack 3-Axis Accelerometer in its user guide:

User guide for the Microstack Accelerometer for Raspberry Pi
Customers who viewed this item also viewed