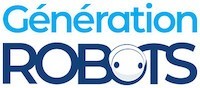 My Cart
0
item(s)
-
€0.00
There are no more items in your cart



MPU-6050 3-Axis Gyro &amp Accelerometer Module
SparkFun |
A-000000-01788
The MPU-6050 module has an embedded MEMS (3-axis gyroscope) and a 3-axis accelerometer within the same DMP circuit to provide you with extremely accurate navigation information and move your
mobile robot
, motorised vehicle or
drone
forward without error!
Including €0.01 for ecotax
A gyroscope and accelerometer in a single module: the MPU-6050 3-Axis Gyro & Accelerometer module
This tiny electronic module combines a high-precision 3-axis gyroscope and a 3-axis accelerometer to create an inertial measurement unit calculating the acceleration and angular rate of your robots and mobile vehicles.
But the main advantage of the MPU-6050 module is no doubt its DMP (Digital Motion Processor) embedded on the same silicon die, since it supports 9-axis MotionFusion algorithms while correcting any alignment problems and errors caused by small components. It can also detect sensors and movement.
Using and improving the MPU-6050 3-Axis Gyro & Accelerometer module
The MPU-6050 SparkFun 3-Axis Gyro is equipped with pins spaced 2.54 mm apart for easy connection not only to your Arduino or Raspberry Pi board, but also to other add-ons.
These pins include the auxiliary master I2C bus needed to connect your 3-axis gyro to a magnetometer or to any of a wide variety of other sensors for further enriching your navigation information (measurement of altitude and moisture, presence sensor, etc.) and improving the proprioception of your robotics creation or drone.
Technical specifications of the MPU-6050 3-Axis Gyro & Accelerometer module
Supply voltage: 2.3–3.4 V
Consumption: 3.9 mA max.
Accelerometer:

Measuring ranges: ±2 g ±4 g ±8 g ±16 g
Calibration tolerance: ±3%

Gyroscope:

Measuring ranges: ±250/500/1000/2000 °/sar
Calibration tolerance: ±3%

I2C interface
Embedded temperature sensor
Selectable jumpers on CLK, FSYNC and AD0
Operating temperature: -40 °C to +85 °C
Dimensions: 25.5 × 15.2 × 2.48 mm
Resources for the MPU-6050 3-Axis Gyro & Accelerometer module
Below you'll find all the information you need to be able to immediately use your MPU-6050 3-Axis Gyro & Accelerometer module:
Schematics of the MPU-6050 3-Axis Gyro & Accelerometer module
EAGLE files of the MPU-6050 3-Axis Gyro & Accelerometer module
Technical data of the MPU-6050 3-Axis Gyro & Accelerometer module
Sample code for the MPU-6050 3-Axis Gyro & Accelerometer module
I2Cdevlib page for the MPU-6050 3-Axis Gyro & Accelerometer module (eng)
GitHub page for the MPU-6050 3-Axis Gyro & Accelerometer module (eng)
Customers who viewed this item also viewed