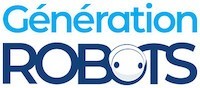 My Cart
0
item(s)
-
€0.00
There are no more items in your cart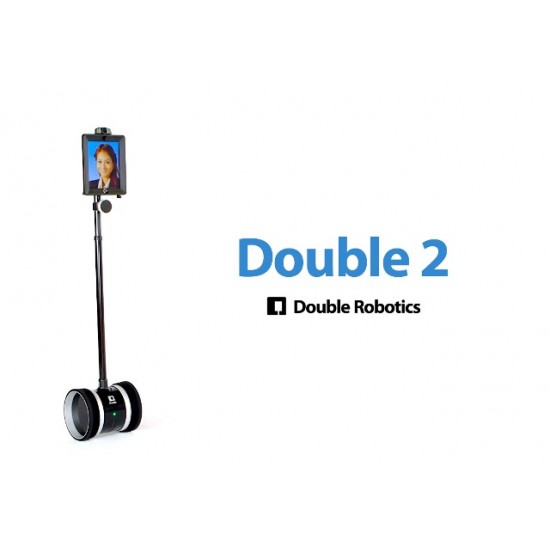 Teleconference robot Double 3
The last Double telepresence robot generation is ideal for telecommuting. You can remotely be at your office or at school and talk to your colleagues from anywhere in the world! DISCONTINUED ARTICLE.
Double telepresence robot presentation
Videoconferencing is without a doubt the most one of the most important tool used by remote workers nowadays. However it can create a lot of hassle, from not hearing everyone clearly to wasting time setting up your video call.
What if you could just go from one person to another to set up a meeting and have face-to-face interaction? Double telepresence robot helps you to do that. You can easily combine quality video calls on an iPad with a mobile base enabling you to move around the office in a sleek and elegant way. Your Double telepresence robot is always ready to take you wherever you have to go thank to its autonomy lasting up to 8 hours.
Don't miss any of the important conversations taking place in the office while working remotely.
The following video shows you how the Double telepresence robot can replace videoconferencing:
What is new in the DOUBLE 2 compared to the DOUBLE 1
2016, 6th January, Double Roboticshas launched the latest Double telepresence robot generation, the Double2. The new Double includes Lateral Stability Control, Power Drive, and Camera Kit, which are designed to increase spatial awareness for the driver and enhance the overall driving experience.
Lateral Stability Control : Double 2 introduces a transformative, patent pending technology called Lateral Stability Control that allows drivers to traverse common office or classroom obstacles without losing balance. Lateral Stability Control is a shock absorption mechanism and advanced software algorithm that enables Double to maintain stability while crossing over cords, bumps, or a change in flooring.
Power Drive : Drivers can now go up to 80 percent faster than normal driving speed when Power Drive is enabled. By simply holding the Shift key, Double 2 can cruise at an average indoor walking speed of 1.6 miles per hour, an increase from 0.9 miles per hour on the first generation Double.
Camera Kit : The visual experience on Double 2 is even better with the allnew Camera Kit accessory. Camera Kit is an attachable camera with a 150degree wide-angle lens that increases field of view by 70 percent on both sides. Along with a wide-angle lens, there will now be alwayson Floor View, so drivers can see exactly what's in front of them at all times. Photos will now be taken with a 5 megapixel HD camera, compared to the standard 1.2 megapixel camera. Camera kit is also backward compatible with Double 1.
What contains the Double 2 offer
The Double 2 telepresence robot is delivered with:
1 Double 2 robot
Bolt and allen wrench
1 charger
1 Instructions
Technical specifications of the Double 2 telepresence robot
Manufacturer : Double Robotics, Inc.
Product Height : 47"-59" (119-150 cm), remotely adjustable
Product Footprint : 10" (25.4 cm) x 9" (23 cm)
Weight : 14 lbs. (6.35 kg)
Speed : Moderate walking pace
Power Drive : Up to 80% faster when driving in long hallways
Operating Environment : Indoor-only
Lateral Stability Control : Smooth ride going over thresholds, cords, and more
Maximum Slope (Ramp) : 8% incline (ADA compliant wheelchair ramps)
Battery : Lithium-Ion; 8+ hours of runtime
Charging Time : Approximately 3 hours
User Interface : Drive from iPad/iPhone or desktop Chrome and Firefox
Network Requirements : WiFi or 4G/LTE; minimum 512 kbps; 2 mbps is best
Video Protocol : WebRTC, the new standard in desktop browsers
Video Encryption : End-to-end, 128-bit AES encryption, fully secure
Monthly fees or Software fees : None
Warranty : 1 year included free; extension to 3 years is available
Required iPad (Not Included) : iPad Air 2 or iPad Air; older iPads may not work well
Shipping Dimensions : 44" x 14" x 13" (112 cm x 36 cm x 33 cm)
Camera Kit (optional): 5 megapixel camera with 150° wide angle lens
Audio kit (optional): amplified speaker and directional microphone
Charging dock (optional): ensures that your Double is always online and available
Carrying case(optional): to carry your robot easily and safely.
The following schematics shows how the Double telepresence robot works:
Double 2 telepresence robot resources
This product is covered by a one-year limited warranty from Double Robotics Inc. For any technical problem, please contact Double Support by email at support@doublerobotics.com or by phone at (415) 915-6009.
To find all the informations that you should need, please go on http://support.doublerobotics.com/
Double telepresence robot can simply work with a Google Chrome web browser, but also from a Double app available for iPad, iPhone or iPod Touch. You can download this application below:
iOS app for Double telepresence robot
The GitHub repository for the Double telepresence robot iOS SDK
Customers who viewed this item also viewed