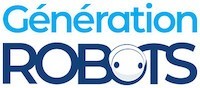 My Cart
0
item(s)
-
€0.00
There are no more items in your cart
Peoplebot mobile robot
If you cannot meet people in person, PeopleBot will do it for you! This mobile research robot is the ultimate human-robot interaction champion. Fit it with a touchscreen, and let him do the talking for you! DISCONTINUED PRODUCT
PeopleBot, your interactive mobile robot
Once again, Adept has released a clever combination of a robust robotised platform (the P3-DX), a top plate and an efficient processor for all your programming applications.
PeopleBot is a mobile robot built on a base featuring all the connections you'll need to use all the accessories you like. This means you can mount an optional touchscreen on the top plate of the robot, at chest height.
The infrared sensors at the front automatically detect the presence of someone to talk to. Once contact has been made, PeopleBot is ready for a wide range of interactions: it can grab objects and hand them over thanks to its grippers and its arm with several degrees of freedom, move and follow the person who's talking, access the Internet using its touchscreen, and even pronounce a few words using speech synthesis software!
Learn more about the Peoplebot in this video presentation
A great mobile robot for vision tasks
Equip PeopleBot with a PTZ camera, then send it on reconnaissance, remote surveillance or robot mapping missions! Like others Adept robots, PeopleBot is able to avoid obstacles while navigating inside your lab, on flat ground or a slight slope. Several packages are available: a basic version without accessories, a version for a robotised camera with a touchscreen connected to the microcontroller, and a mobile version with a robotic arm.
As always, you can count on the Pioneer SDK to provide you with all the software you'll need to carry out various experiments and leverage the capacities of your mobile robot as you see fit, with or without a camera!
Technical specifications of the PeopleBot robot by Adept
1.6 mm lacquered aluminium body
Foam-filled rubber tires
Weight (base): 21 kg
Maximum payload: 8 kg
Differential drive
Turn radius: 0 cm
Swing radius: 33 cm
Maximum speed: 0.8 m/s
Rotation speed: 150°/s
Traversable gap: 15 cm
Traversable sill: 5 cm
Traversable terrain: indoor, wheelchair accessible
Autonomy: 8 hours with 3 batteries (with no accessories)
Charge time: 2-3 hours
Power supply: 5V @ 1.5A; 12V @ 2.5A
Battery nominal voltage: 12V
Battery nominal capacity: 7.2 Ah
Chemistry: lead acid
Hot-swappable batteries
User control panel:

MIDI programmable piezoelectric buzzer
Power indicator
Battery charge indicator
2 AUX power switches
Reset command
Motor enable push-button

Mamba EBX-37 (Dual Core 2.26 GHz - 2-8GB RAM) processor

32 digital inputs
8 digital outputs
7 analogue inputs
3 serial expansion ports
6 USB 2.0 ports
2 PC/104+ slots
4 RS-232 serial ports
2 10/100/1000 Ethernet ports
On-board audio and video
SSD
Optional wireless Ethernet

This Pioneer robot includes front sonar and one of three battery. Charger sold seperately
Resources for the PeopleBot
Pay attention to details: download the complete technical data for your PeopleBot!
Customers who viewed this item also viewed