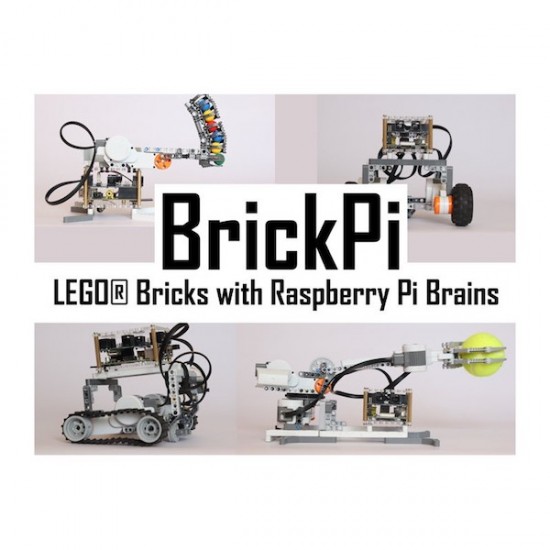 BrickPi3 Base kit
The BrickPi3 is an interface between Rasperry Pi and the Lego Mindstorms ecosystem. The base kit contains the BrickPi+ board, a protection case, a battery pack and its power cable.
Including €0.05 for ecotax
Description of the BrickPi3 base kit for Lego Mindstorms and Raspberry Pi
Fans of Lego MINDSTORMS are now allowed to create robots that have a more powerful computer by using a Raspberry Pi. The BrickPi3 is an interface that, when connected to a Raspberry Pi, replaces the lego Mindstorms intelligent brick. The BrickPi3 has Lego connectors to Lego servomotors and Lego sensors. The BrickPi3 is a clever extension to the Raspberry Pi to use it into robotics.
The Raspberry Pi is a small computer with a Linux OS system and is much more powerful than a classique Lego Mindstorms brick. By using the Raspberry Pi, you'll be allowed to designed more complex and efficient algorithms. Raspberry Pi is open-source for hardware and software and is clearly a success in the Do It Yourself community.
The BrickPi3 is compatible with Lego Mindstorms NXT and Lego Mindstorms EV3.
The BrickPi3 version
Powering the BrickPi3 can be done either using 8 AA batteries, or through USB, or using both methods at the same time. This base kit contains a battery pack (8 AA batteries, not included) and its power cable.
Content of the BrickPi3 base kit
The BrickPi3 base kit, for Lego Mindstorms and RaspberyPi is provided with:
The BrickPi3 board
An enclosed 6-sided acrylic case to connect LEGO technic bricks on all sides (plus the hardware to assemble the case)
A battery pack (for 8 AA batteries, which are not included) and its power cable
Technical specifications of the BrickPi3 for Lego Mindstorms and RaspberryPi
The BrickPi3 is composed of the following elements:
1 Port dedicated to the Grove sensorsrange (awesome!)
4 Ports for Lego Mindstorms NXT and EV3 sensors
4 Ports pour Lego Minstorms NXT and EV3 servos/motors
Libraries available in Python, Scratch & Java
With BrickPi, you can connect your Lego Mindstorms robot to the web
It can be powered with battery or an external power supply
In short, we recommend the BrickPi3 base kit if:
You need more processing power for your Lego Mibdstorms robot
You want to program your Lego Mindstorms robot in other languages (C, Python, Scratch)
You need some internet interaction
You need Wifi (for this, you can also get our house-made WiFiBlock)
You wish to add 3rd party sensors to your Lego robot
Technical Resources for the BrickPi3 for Lego Mindstorms and RaspberryPi
Customers who viewed this item also viewed