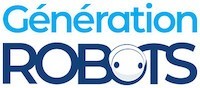 My Cart
0
item(s)
-
€0.00
There are no more items in your cart

BrickPi Robot Kit (with EU adapter)
Dexter Industries |
A-000000-02593
Everything you need to start with the BrickPi ! This kit comes with the Raspberry Pi 3 B+board (WiFi + Bluetooth).
Including €0.10 for ecotax
BrickPi robot Kit
This BrickPi robot kit has everything you need to start using the BrickPi and create advanced robots. Using the BrickPi, you'll be able to create smart robots using Lego Mindstorms sensors and servomotors. The robot is controlled by the Rasperry Pi computer which is much more versatible and powerful than the Lego Mindstorms intelligent brick.
This new BrickPi Robot Kit includes the Raspberry Pi 3B+. (Much) more powerful, this board also comes equipped with WiFi and Bluetooth, providing its users new ways to create more fun projects and applications with the BrickPi technology!
The BrickPi Robot Kit contains the following elements:
1 x BrickPi 3 base Kit
1 x Raspberry Pi 3 Model B+
1 x Temperature, humidity and pressure sensor
1 x MicroSD Card (you will have to download and flash Raspbian for Robots)
1 x 6" Ethernet Cable
We recommend the BrickPi robot kit if:
You need more processing power for your Lego Mibdstorms robot
You want to program your Lego Mindstorms robot in other languages (C, Python, Scratch)
You need some internet interaction
You wish to add 3rd party sensors to your Lego robot
Technical Resources for the BrickPi for Lego Mindstorms and RaspberryPi
Customers who viewed this item also viewed