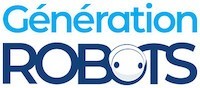 My Cart
0
item(s)
-
€0.00
There are no more items in your cart
Scottie Go!
This Scottie Go! educational game is ideal for organising exciting programming workshops with your children or pupils.
Scottie Go! – a board game and electronic app, the ideal combination
Scottie Go! is an educational game played in two phases:
First, the child selects a task and creates their program by placing the tiles provided in the right order, like a program compiled using Scratch
Once the tiles are in place, they take a picture of their installation and use the app installed on their device (tablet, computer or smartphone) to check that Scottie is acting as expected
Young users can therefore check that their program is working properly and correct their mistakes themselves. The game can be played individually, or by groups of 2 or 3 children.
Technical specifications of the Scottie Go! programming game
60 tasks divided into 7 modules
Includes: 1 box of 179 blocks for creating programs
From 6 years of age
System requirements:
PC with Windows: 32 or 64-bit Windows 7/8/10, 2 GB RAM, 1.33 GHz dual-core processor, 2 Mpx USB webcam with autofocus
Android: version 4.1.2 or higher, 1.2 GHz dual-core processor, 2 Mpx back camera with autofocus
iOS: version 8 or higher, iPhone 5s or higher, 4th generation iPad or higher
Resources for the Scottie Go! game
Download the appropriate app for your device to start playing your Scottie Go! game immediately:
Data sheet
Programming language

Unplugged activity

Age group

6-8 years

Age group

9-11 years

Compatibility

Android tablet

Compatibility

Computer

Compatibility

iOS tablet

Compatibility

Unplugged activities

Power supply

Battery (rechargeable)
Customers who viewed this item also viewed