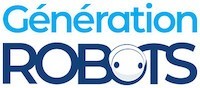 My Cart
0
item(s)
-
€0.00
There are no more items in your cart
The robots and robotics kits featured here are made for the secondary education. These robots can be used to illustrate different courses such as sciences, mathematics or technology, or be the building blocks of a brand new robotics club!
Active filters
Programming language: Swift 
Tello EDU is a DJI drone designed for learning the Scratch, Swift and Python programming languages. It offers lots of features ranging from aerial exploration to development of artificial intelligence.
In Stock
Check out this Sphero Bolt educational robot: you get a sophisticated, futuristic design, multiple programming possibilities and precise and efficient navigation!
In Stock
All the features of the Sphero Bolt educational robot... multiplied by 15!
Product available for orders