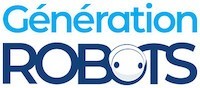 My Cart
0
item(s)
-
€0.00
There are no more items in your cart
The robots and robotics kits featured here are made for the secondary education. These robots can be used to illustrate different courses such as sciences, mathematics or technology, or be the building blocks of a brand new robotics club!
The mBot v1.1 Bluetooth Robot (blue) is the newest version of the mBot educational robot. It comes with all its accessories and a host of fun features.
In Stock
With the Makeblock mBot Ranger 3-in-1 STEM Educational Robot Kit, you can introduce the joys of robotics and programming to your students from the age of 11 by creating three different forms of vehicle.
In Stock
The Makeblock Ultimate 2.0 10-in-1 Kit is an ultra-versatile robotics kit, compatible with Arduino and Raspberry Pi. It offers 10 different assembly configurations.
Product available for orders