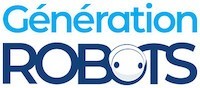 My Cart
0
item(s)
-
€0.00
There are no more items in your cart
The robots and robotics kits featured here are made for the secondary education. These robots can be used to illustrate different courses such as sciences, mathematics or technology, or be the building blocks of a brand new robotics club!
Just like its predecessor, the mBot 2 educational robot makes learning programming and robotics as fun as building with LEGO. But it also offers more possibilities in terms of design – you may even win your first robot competition!
In Stock
Codey Rocky is an educational robot that introduces pupils from the age of 6 to STEAM. It is composed of a controller that you can use independently or combined with the Rocky mobile chassis.
In Stock