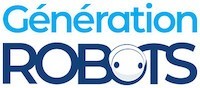 My Cart
0
item(s)
-
€0.00
There are no more items in your cart
List of products by brand Angatec
The French company Angatec is an expert in creating robots to assist in operations and firefighting. They are responsible for the design and production of the TEC800 firefighting robot in France, which is distributed worldwide.
A fully configurable teleoperated robot
Génération Robots markets this tracked robot by making it fully customizable so that it can meet all types of projects. You can integrate sensors and interface with motor controllers and power.
Cutting-edge technology
The TEC800 mobile robot is equipped with anti-roll bars and shock absorbers to improve its mobility and crossing capacity. Its brushless motors are more reliable and require no maintenance. In addition, a monitoring system allows the operator to track the robot's health in real-time, while a black box records all of its activities to facilitate remote diagnostics.
The TEC800 mobile robot is a tracked, remote-controlled UGV unit. It's a powerful and customisable platform, ideal for research and R&D centres wanting to work on robotics applications.