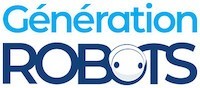 My Cart
0
item(s)
-
€0.00
There are no more items in your cart
BrickPI Basic Power, Raspebrry Pi interface for Lego Mindstorms
The BrickPI provides an easy way to interface your Lego Mindstorms robot and your Raspberry PI micro computer.
This product is deprecated. It has been replaced by the BrickPi Advanced Power
Description of the BrickPI for Lego Mindstorms and Raspberry Pi
Fans of Lego MINDSTORMS will at least be allowed to create robots that have a more powerful computer by using a Raspberry Pi. The BrickPi is an interface that, when connected to a Raspberry Pi, replaces the lego Mindstorms intelligent brick. The BrickPi has Lego connectors to Lego servomotors and Lego sensors. The BrickPi is a cleaver extension to the Raspbery Pi to use it into robotics.
The Raspberry Pi is a small computer with a Linux OS system and is much more powerful than a classique Lego Mindstorms brick. By using the Raspberry Pi, you'll be allowed to designed more complex and efficient algorithms. Raspberry Pi is open-source for hardware and software and is clearly a succes in the Do It Yourself community.
The BrickPi is compatible with Lego Mindstorms NXT and Lego Mindstorms EV3.
Powering the BrickPi Basic Power
Powering the BrickPi can be done eitherusing 6 AA batteries, or through USB, or usig both methods at the same time. Powering the BrickPi using a 9V battery is possible but is not recommanded since the power is to low.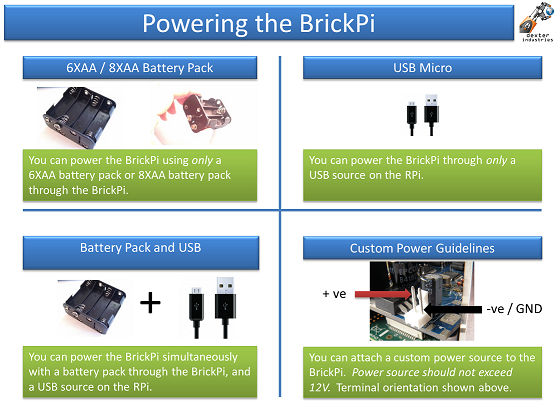 Content of the BrickPi box
The BrickPi Power for Lego Mindstorms and RaspberyPi is provided with:
Two transparent plastic plates (acrylic) to protect the BrickPi
Hadware (screws, spacers...) to attach the two plates to the BrickPi
The Rasberry PI board is not included.
Technical specifications of the BrickPI for Lego Mindstorms and RaspberryPi
The BrickPi is composed of the following elements:
5 Ports for Lego Mindstorms NXT and EV3 sensors
4 Ports pour Lego Minstorms NXT and EV3 servos
One connector for an external power supply
The BrickPi powers Raspberry PI directly using GPIO
Two microcontrollers Atmega328 (Arduino compatible)
Using the Python librairies, C libraries and scratch libraries that are provided by Dexter Industries, you'll be able to easily control the Lego sensors and servos from the Raspberry Pi. The Raspberry Pi has also 2 USB ports and one ethernet port. This allows you to connect more devices, sensors and actuators to your Lego Mindstorms.
Another advantage of the Raspberry Pi is that you'll be allowed to mix sensors and actuators from other technologies such as Arduino.
Last but not least, the Rasperry Pi has a Linux operating sytem, that's to say you'll be able to use a full and modern OS to build your programs, which is a great progress compared to the Lego software.
Here is a presentation video for the BrickPi
Technical Resources for the BrickPI for Lego Mindstorms and RaspberryPi
Customers who viewed this item also viewed