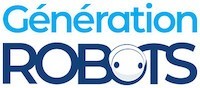 My Cart
0
item(s)
-
€0.00
There are no more items in your cart


Raspberry Pi 1 Model A+
Raspberry Pi |
A-000000-01674
Released in November 2014, the Raspberry Pi A+ board is advertised as being a new and improved, ultra-compact version of the Raspberry Pi A, ideal for your embedded electronics projects.
Including €0.01 for ecotax (not impacted by the discount)
Raspberry Pi A+: the low-cost, super-compact microcontroller!
Embedded electronics fans seeking the ideal microcontroller for driving a drone or mobile robotic platform will be delighted – not only is the Raspberry Pi A+ even more concentrated, but it's also smaller than a credit card. It's therefore light enough to be embedded in all your projects without ever getting in the way. There are some negative consequences, for example there is no Ethernet port and only one USB 2.0 port. In this respect, the Raspberry Pi A's little sister is clearly different from the B+.
The good news is that the Raspberry Pi A+ comes in at an extremely low price, even compared to this famous brand's other models – it's 20% cheaper on average than the A!
Raspberry Pi model A+: a new and improved A!
In terms of added benefits, the changes include some of those seen when moving from the Raspberry Pi B to the B+, including an HAT-compatible 40-pin GPIO header and a microSD reader connector in place of the A's SD card slot. It has also adopted the more efficient micro USB power supply, and now has a CSI port and a DSI port for adding an on-board camera or a display. The audio out is also equipped with a dedicated power supply circuit for a better sound.
It has to be said, there's nothing very new about the processor (still the good old Broadcom BCM2835 SoC), but there are notable hardware improvements that should delight fans of small electronic objects!
Technical specifications of the Raspberry Pi A+
System memory: 512 MB (PoP)
Broadcom BCM2835 SoC
microSD card connector
1 USB 2.0 port
1 micro USB port (power supply)
40-pin GPIO connector
CSI (camera)
DSI (display)
Supply: 5 V
Dimensions: 65 x 55 x 12 mm
Weight: 23 g
Resources for the Raspberry Pi Model A+
The following video will explain all the new features included in the Raspberry Pi model A+:
Customers who viewed this item also viewed