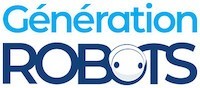 My Cart
0
item(s)
-
€0.00
There are no more items in your cart


Arduino 4.3" Touchscreen LCD Module
The 4.3" Touchscreen LCD Module is designed specifically for Arduino users wishing to develop programs in which touch technology plays an important part.
DISCONTINUED ARTICLE.
4.3" Touchscreen LCD for Arduino: smart compatibility
Programming an Arduino project with a touchscreen is no easy task: not only will a touchscreen LCD use most of your Arduino's resources, but you'll also need lots of connection cables – which isn't ideal if you want your creation to be compact.
The ULCD-43-PT Arduino touchscreen by Sparkfun benefits from the 4D system, meaning the necessary controllers are embedded directly in the resistive LCD.
In this case it's an Arduino LCD 100% compatible with the famous microcontroller, since it includes a 4D adapter shield designed especially for Arduino. Connect the shield, then the Arduino display to your microcontroller using the ribbon cable supplied, and you're ready to go.
Learn more about 4D Systems Touch LCD Screens in this video presentation
Lines, text, images: a multitude of possibilities
The ULCD-43-PT display sends its serial commands directly to your Arduino, which interprets and processes them instantly. Technically speaking, this means you can not only draw primitives (lines, squares, circles, etc.), but also display images and play sounds that can be stored on a uSD card.
The open-source Workshop4 programming environment also allows you to combine the possibilities offered by both Visi-Genie and Arduino to create your own graphics!
Technical specifications of the ULCD-43-PT Arduino Display Module
ULCD-43-PT display module with resistive touch
4D Arduino adapter shield
5-pin ribbon cable (please note, this is not a programming cable)
Powered directly from the Arduino 5V bus
Compatible USB-to-serial adapter not included (required for programming)
Resources for the Arduino LCD
Read on to discover all the Arduino LCD's secrets:
Customers who viewed this item also viewed