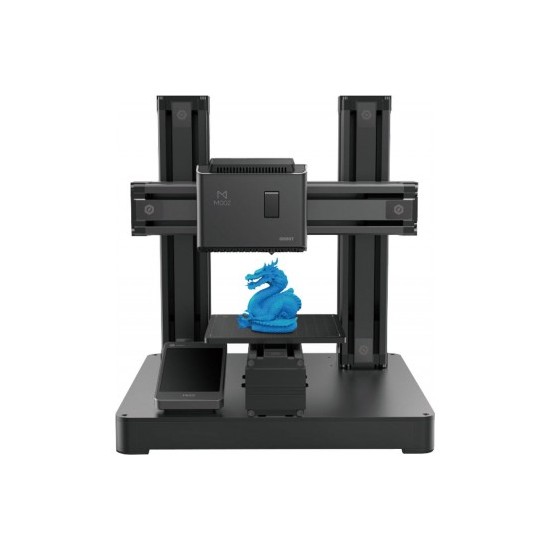 Complete 3-in-1 MOOZ 3D Printer Kit
This Dobot 3D printer combines a sleek, intelligent design and 2 high-quality interchangeable tools on a single machine: a 3D printing nozzle and a CNC machine tool.
For safety reasons, we have decided to remove the laser from the Dobot Mooz 3D printer. DISCONTINUED.
A 3-in-1 3D printer
The Mooz 3D printer by Dobot offers 3 essential tools for designers, creators and inventors of all sorts in a single machine:
A 0.4 mm diameter 3D printing nozzle, offering a layer thickness of between 0.05 and 0.3 mm for precise, reliable and impeccable results. The printing speed varies between 10 and 80 mm per second, for an object measuring up to 13 cm in length, width and height;
A CNC carving machine: CNC machines are recognised for being very high-precision tools. This machine tool can carry out highly intricate work on most non-metallic materials.

For safety reasons, we have decided to remove the laser from the Dobot Magician set.
The Dobot Mooz 3D printer normally comes with a laser engraving module. Although this module is CE certified, the 3D printer does not have an automatic or emergency laser shutdown system, which can be hazardous.
In addition, legislation about laser devices varies significantly from one country to another (in some countries, selling this type of equipment is forbidden).
In order to offer a product that does not present a risk for the user and complies with the legislation in force, Generation Robots has chosen to remove the laser module from the Dobot Mooz 3D printer. A 50€ discount now applies on this product.

An elegant, reliable and intelligent design
The MOOZ printer has interchangeable heads, allowing you to switch easily from one technique to another. It is a Dobot MOOZ machine made of an aluminium alloy with a streamlined design, making it a contemporary and elegant item you will be proud to show in your office. In addition, the weight of the aluminium renders it particularly stable, which limits vibration during printing, engraving and machining. And its modular design means you can assemble the 3-in-1 kit both quickly and easily.
With this 3D printer, you'll be able to not only work on your projects from home, at reduced cost, but also easily acquire the open-source hardware for which there are 3D printing files. You can even try carving a figure out of wood! Everything is controlled using a touch screen with an interface no harder to use than that of a smartphone. Simply connect your USB cable and download the necessary files.
Technical Specifications of the Complete 3-in-1 MOOZ 3D Printer Kit
Overall dimensions: 285 x 285 x 318 mm
Adapter input: 100–240V, 50/60 Hz, 1.8A max.
Adapter output: 12V~6.5A
Main material: aircraft grade aluminium
Operation panel: 3.5' LCD touch pad
Cura, Slic3r and Printrun software compatible
3D printing specifications:
Nozzle diameter: 0.4 mm
Layer resolution: 0.05~0.3 mm
Nozzle temperature: 190~260 °C
Heated bed temperature: 50~100 °C
Forming size: X130 x Y130 x Z130 mm
Applicable materials: FLEX, PC, ABS, PLA plastic
Printing speed: 10~80 mm/s
Data sheet
Code douanier

8443321090

Origine

CN
Customers who viewed this item also viewed