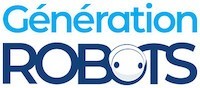 My Cart
0
item(s)
-
€0.00
There are no more items in your cart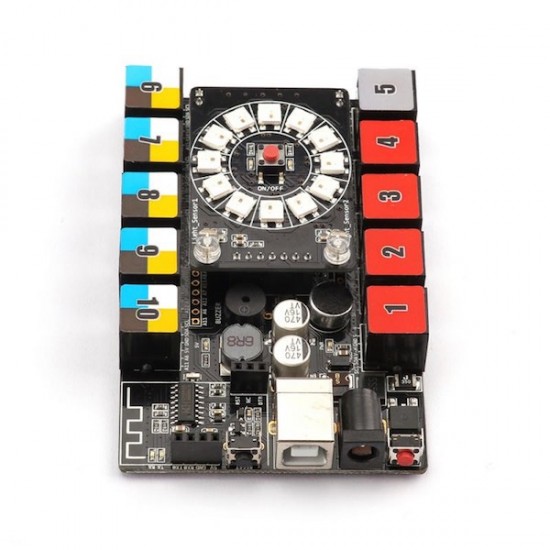 Makeblock Me Auriga Board
Makeblock |
A-000000-03259
Check out this Makeblock Me Auriga Board, a new and improved Arduino-compatible version of the Orion board.
Including €0.01 for ecotax
Makeblock Me Auriga Board: more power and functionalities
The Makeblock Me Auriga Board is dedicated specifically to the development of mobile robots. Equipped with an ATmega 2560 processor, compatible with the Arduino IDE, it can drive 2 DC motors at 6–12 Vdc. It is also equipped with 10 RJ25 ports for adding Makeblock add-on modules (not included). The Me Auriga board has various different sensors (light, sound, temperature and LED RGB panel). You can also add a Bluetooth or 2.4 GHz module using a dedicated port.
Technical specifications of the Me Auriga board
Easy to connect with sensors, electronic modules and motor drivers
Supports DC motors, stepper motors, servo motors, smart servos, encoder motors, etc.
Can drive up to 2 encoder motors simultaneously (over-current protection – 2.4A – instantaneous)
1 power switch to control the whole circuit
PORT5-PORT10: continuous 5V 2.4A output (up to 3A)
PORT1-PORT4: continuous 3.5A output (up to 5A)
PORT5-PORT10: short-circuit and over-current protection for 3A
PORT1-PORT4: short-circuit and over-current protection for 3.5A
USB port with antistatic protection
Peripherals included:
Gyroscope
Sound sensor
Passive buzzer
Temperature sensor
12 PXL LED RGB panel with light intensity sensor
Compatibility:
Arduino IDE
RJ25 port
Specific Arduino code library
Bluetooth support and Bluetooth upgrade firmware
Output voltage: 5 Vdc and 6–12 Vdc
Input voltage: 6–12 Vdc
Maximum instantaneous output current (PORT1-PORT4): 5A
Maximum instantaneous output current (PORT5-PORT10): 3A
Communication: UART, I2C, digital input/output, analogue input/output
Main controller: ATmega 2560
Board dimensions: 100 x 65 x 18 mm
Includes:
1 Me Auriga v1.0 board (without Bluetooth module)
1 Me Auriga case
Customers who viewed this item also viewed