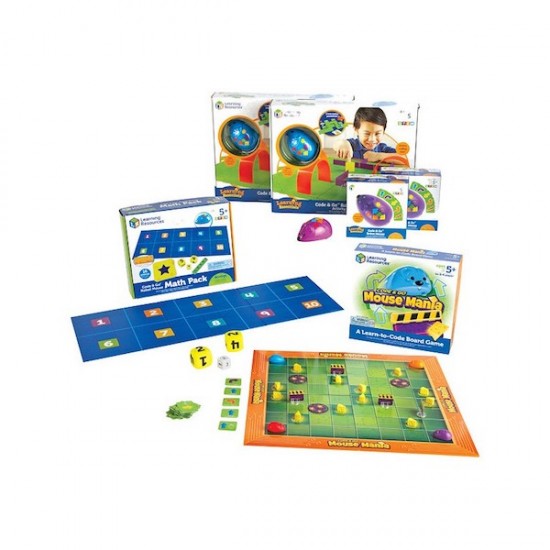 Code & Go® Robot Mouse Classroom Set
Meet Jack and Colby, two Learning Resources® educational robots in the form of mice, one purple, one blue! This complete STEM kit is ideal for organising workshops to introduce children to programming, even in nursery schools.
Including €0.92 for ecotax
Code & Go® educational kit: a new type of classroom activity
The Code & Go® kits embody the principle of learning through play. Each set contains programming cards allowing children to create their own sequences to take the mice to a target destination while avoiding obstacles on the game board. All they then have to do is program the mice using the navigational arrows on their backs.
The Code & Go® Robot Mouse Classroom Set comes with a complete pack of materials for organising STEM learning workshops for pupils between 4 and 9 years of age.
Technical specifications of the Code & Go® Robot Mouse Classroom Set
Age: 4-9 years
Included:
2 Code & Go® Robot Mouse activity sets
1 Code & Go® Mouse Mania game board
1 Code & Go® Robot Mouse Maths pack
Data sheet
Programming language

Without screen

Age group

6-8 years

Age group

3-5 years

Compatibility

Without screen

Power supply

Batteries

Robot type

Mobile robot
Customers who viewed this item also viewed