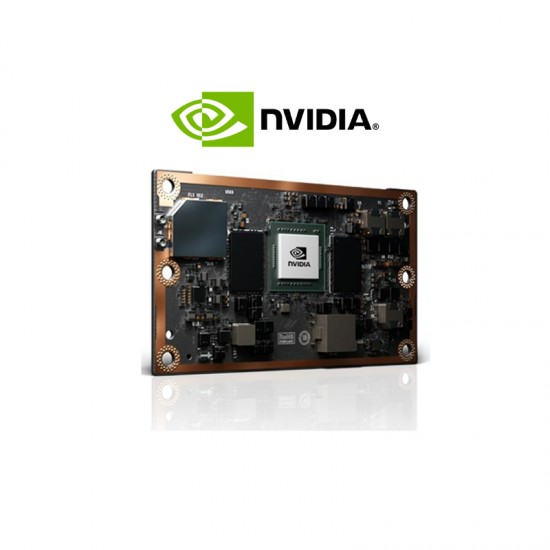 NVIDIA Jetson TX2 Board
The NVIDIA Jetson TX2 Board is even more powerful than the TX1 thanks to its NVIDIA Pascal™ architecture and has enough resources to carry out the most ambitious projects.
Including €0.01 for ecotax (not impacted by the discount)
NVIDIA Jetson TX2: a supercomputer you can embed in all projects
The TX2 has abandoned the NVIDIA Maxwell™ architecture used in the TX1, in favour of a GPU of unprecedented power. The NVIDIA Pascal™ architecture with 256 NVIDIA CUDA® cores performs twice as well as the TX1:
Twice as much memory
Twice as efficient and rapid video support
Twice as much native data storage on an eMMC 5.1 module
Plus, power consumption of just 7.5W and a size comparable to that of a credit card
The serial expansion bus embedded in this NVIDIA Jetson TX2 Board also improves device connectivity, hence increasing your development possibilities.
The Jetson TX2 Board is smaller, less power hungry and offers WiFi and Gigabit Ethernet, so it is suitable for even the most compact projects. It also has a host of additional exciting features that will satisfy all types of creator. The TX2 is backward compatible with all the functionalities of the TX1.
A versatile module for all your computer and robotics applications
The TX2 is particularly powerful, compact and energy efficient, making it an extremely popular all-around on-board computer. Ideal for education as well as for developing innovative solutions, the NVIDIA Jetson TX2 Board is a good choice for drones, autonomous vehicles and smart devices in addition to other edge-of-network applications.
The NVIDIA Jetson TX2 also provides access to deeper neural networks, enabling you to work on even more complex AI projects whatever your area of expertise.
Technical specifications of the NVIDIA Jetson TX2 Board
GPU: NVIDIA Pascal™ architecture with 256 NVIDIA CUDA® cores
Dual-Core Denver 64-bit CPU + Quad-Core ARM A57 complex
Memory: 8 GB 128-bit LDDR4
Flash storage: 32 GB eMMC 5.1
Connectivity: WiFi 802.11ac and devices equipped with Bluetooth
Ethernet 10/100/1000BASE-T
Jetson camera module: MIPI CSI camera, 5 MP fixed focus, 12 lanes MIPI CSI-2, D-PHY 1.2 (30 Gbps)
Video encode: 3x 4K @ 30 (HEVC)
Video decode: 4x 4K @ 30 (HEVC)
Display: HDMI 2.0 / eDP 1.4 / 2x DSI / 2x DP 1.2
Buttons:

Power on/off
Reset
Force Recovery
User-Defined

I/O:

USB 3.0 Type A
USB 2.0 Micro AB (supports recovery and host mode)
HDMI
M.2 Key E
4 x PCI-E
Gigabit Ethernet
Full-size SD
SATA data and power
GPIO, I2C, I2S, SPI, CAN
TTL UART with flow control
I/O expansion bus for display
I/O expansion bus for camera

400-pin connector with thermal transfer plate (TTP)
Power: 19 VAC external adapter
Dimensions: 87 x 50 mm
NVIDIA Jetson TX2 board resources
Customers who viewed this item also viewed