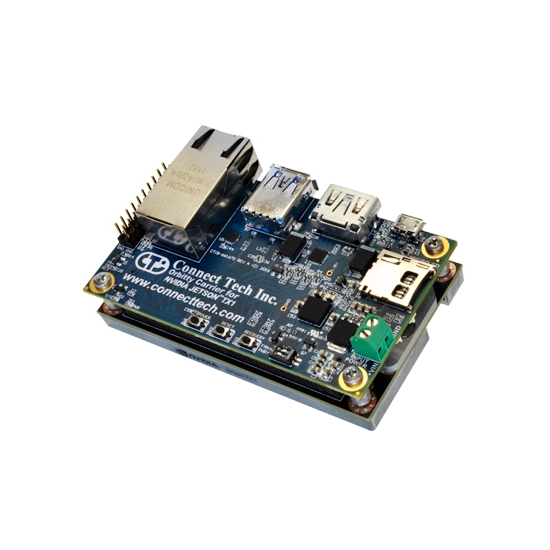 Orbitty Carrier for NVIDIA Jetson TX2
The Orbitty Carrier for NVIDIA Jetson TX2 is a carrier board 100% compatible with the TX1 and TX2 models and even the TX2i, the very latest version of the Jetson designed for industrial robotics.
NVIDIA Jetson Orbitty: a more compact and accessible carrier board
The NVIDIA Orbitty follows on from the Astro and Elroy carrier boards, designed by Canadian firm Connect Tech. Compatible with the TX1, TX2 and TX2i models, Orbitty is a more compact and economical carrier, ideal for education, prototyping and creating robotics applications.
The Orbitty Carrier for NVIDIA Jetson TX2 offers 2 USB 3.0 and 2.0 On-the-Go ports, HDMI audio and video support, a Gigabit Ethernet interface and a microSD card slot. It also includes a GPIO expansion connector with UART, I2C and 4 GPIO ports.
The preferred solution for professional creators
Connect Tech designed this ultra-compact and efficient model to be a carrier capable of effectively meeting the needs of teachers and inventors. NVIDIA Jetson Orbitty is aimed at both industrial designers and designers of robotics solutions (autonomous machines and vehicles, machine learning, edge computing, etc.).
This NVIDIA carrier board is fully compatible with the Jetson TX2 and TX2i, allowing you to work on innovative industrial applications in addition to a multitude of next-generation robotics projects. Its architecture offers rapid connection and implementation as well as an extended operating temperature.
Technical specifications of the Orbitty Carrier for Jetson TX2
Compatibility: NVIDIA® Jetson™ TX1, NVIDIA® Jetson™ TX2, NVIDIA® Jetson™ TX2i
1 HDMI display
1 USB 3.0 port
1 USB 2.0 OTG port
1 Gigabit Ethernet port (10/100/1000)
Integrated HDMI audio
1 microSD card slot
2 UART 3.3V serial ports
4 GPIO ports and I2C
Power: 9 to 14 Vdc nominal (19V peak)
Operating temperature: -40 to 85 °C
Weight:

ASG003 (Orbitty Carrier): 41 g
Jetson TX2/TX1: 144 g (with heat sink); 75 g (without heat sink)

Dimensions: 87 x 50 mm
Resources for the Orbitty Carrier for NVIDIA Jetson TX2
Below you will find all the essential information you need for your Orbitty Carrier for NVIDIA Jetson TX2!
Customers who viewed this item also viewed