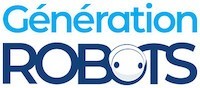 My Cart
0
item(s)
-
€0.00
There are no more items in your cart


USB 5V 10 000 mAh Power Bank for Raspberry Pi and NVIDIA Jetson Nano
This external battery pack can do much more than charging your smartphone. It can power your Raspberry Pi or Jetson Nano on the go!
Including €0.05 for ecotax
USB 5V Battery pack: perfect compatibility with your programming boards
This USB Power Bank is equiped with two USB output ports (A and C) each supplying a voltage of 5V. With its 10 000 mAh, it's a reliable solution for quickly charging your Jetson Nano board or your Raspberry Pi (can be compatible with the Raspberry Pi 4 if the connected USB device draws less than 500 mAh in total). It features a complete safety system for protecting against all sorts of electrical incidents.
Technical specifications of the 10 000 mAh Power Bank
Battery type: LiPo
Capacity: 10 000 mAh @ 3.7V (22.2 Wh)
Micro USB input port: 5V / 2A
USB-C input port: 5V / 2A
USB-A output port: 5V / 2.4A
USB-C output port: 5V / 3A
Total output: 15W
Operating temperature: 10 to 40°C
Integrated protection system against overheating, short-circuits, under and over-voltages, over-current
Customers who viewed this item also viewed