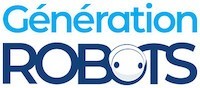 My Cart
0
item(s)
-
€0.00
There are no more items in your cart
The Speechi robotics sets are carefully thought tools, to learn coding, robotics and electronics. Each set come with building bricks, sensors and actuators (servomotors, buzzer, etc). Different languages are used: icons-based interface, Scratch, Arduino (C, Java), Python, Microsoft MakeCode.
The French State Education Advanced Robotics Kit from Speechi is intended for all teachers – from primary to high school – wishing to introduce their pupils to robotics programming using a fun and varied set of tools.
Product available for orders
The French State Education Standard Robotics Kit from Speechi allows you to organise a course of lessons in robotics and programming, each lasting 45 minutes. This educational robot kit, which meets the recommendations of the French Ministry of Education, can be programmed using Scratch, the IDE Arduino, but also Python.
In Stock