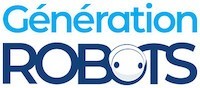 My Cart
0
item(s)
-
€0.00
There are no more items in your cart



Miniature programmable Robot Khepera III
Khepera III robot (K3) is the international standard of miniature programmable mobile robots. Created in the labs of the famous EPFL (swiss based Ecole Polytechnique Federale de Lausanne), Khepera III robot is a unique robot offering features and expandability never seen before.

Developed by the Swiss company K-Team, well known for its Koala, K Junior and Hemisson robots, Khepera III robot proved itself in many educational and research projects requiring the use of miniature mobile robots.
Many sensors are also embedded on the Khepera III robot such as 8 infrared telemeters (30cm range), 5 ultrasounds telemeters (20cm to 4m range) as well as 2 ground sensors for line following or cliff detection.
Many academics and researchers worldwide use Khepera 3 robot for very various projects such as autonomous navigation, artificial intelligence, multi-agents systems, control, real-time programming and much more.
Technical specifications of the Khepera III robot

The Khepera III robot includes:


a control board based on a DsPIC 30F5011 clocked at 60MHz
4Ko RAM
64Ko ROM
2 DC motors with incremental encoders (22 tops per mm of robot motion)
8 infrared sensors that can be used as telemeters or light sensors (30cm range)
5 ultrasounds telemeters (4m range)
2 infrared sensors for wall following and cliff detection
1 1400mAh Lithium Polymer battery (user replaceable)

Physical characteristics and programming:


Diameter: 130mm
Height: 70mm
Weight: 690g
Payload: 2kg
Battery lifetime: approx. 8h without embedded PC
Development environment: GNU C/C++ compiler (freeware)
Remote control: LabVIEW, MATLAB, SysQuake or any software using RS232 communication technology.
Useful resources for KheperaIII robot
- PDF user manual: Download
- VREM simulator user guide: Download
- GUI Interface for Khepera III: Download
- Low level firmware: Download
Customers who viewed this item also viewed