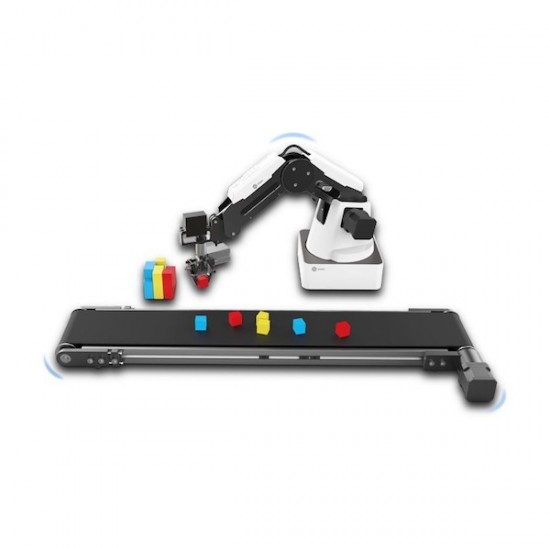 Mini-Conveyor Belt for the Dobot Magician Robotic Arm
This mini-conveyor belt is a Dobot accessory designed to give the educational Dobot Magician robotic arm an additional function. You can now create a proper industrial production line offering advanced features thanks to a few carefully-chosen embedded sensors!
Including €0.63 for ecotax
Mini-conveyor belt for education: a complete kit for a first industrial simulation
The Dobot conveyor belt for the robotic arm is a kit containing various items, allowing students in engineering schools and university institutes of technology as well as sixth form pupils studying science or industrial science and technology to try their hand at their first simulated production line.
For this, the kit includes:
A Dobot conveyor belt
A photoelectric sensor to detect the presence of objects in front of the photocell
A colour sensor to recognise red, blue or green objects
40 coloured wooden cubes serving as material to be handled, moved and stacked by the educational robotic arm
Together, these various items allow the Dobot Magician robotic arm for education to perform a series of programmed operations using its gripper, which comes with both the basic and educational versions of the arm.
Programming the Dobot conveyor belt
Just like the robotic arm for schools that it's designed to work with, the Dobot Magician conveyor belt can be programmed using a fun and effective visual programming environment. You can configure the mini-conveyor belt with your robotic arm's software or even Blockly.
You'll find two Blockly modules in the resources to help you get your production line off the ground.
The robotic arm also has numerous programmable inputs/outputs, allowing you to improve the performance of your robotic arm/mini-conveyor belt duo as much as you wish. You can for example establish a WiFi or Bluetooth connection to control your production line, use a programmable remote control and even develop new sensors!
Technical specifications of the mini-conveyer belt for Dobot Magician
Mini-conveyor belt:
Payload: 500g
Effective delivering distance: 600 mm
Max. speed.: 120 mm/s
Max. acceleration: 1,100 mm/s²
Net weight: 4.2 kg
Weight (including packaging): 5.34 kg
Dimensions: 700 x 215 x 60 mm
Distance sensor:
Measurable range: 20–150 mm
Signal: analogue output
Input: 4.5–5.5V
Colour sensor:
Input: 20–150 mm/s approx.
Detected objects: non-glowing
Embedded controllable white LED (on/off)
Resources for the Dobot Magician mini-conveyer belt
This Dobot conveyor belt opens up many possibilities, as you will see for yourself if you take a look at this additional information compiled especially for you!
Customers who viewed this item also viewed