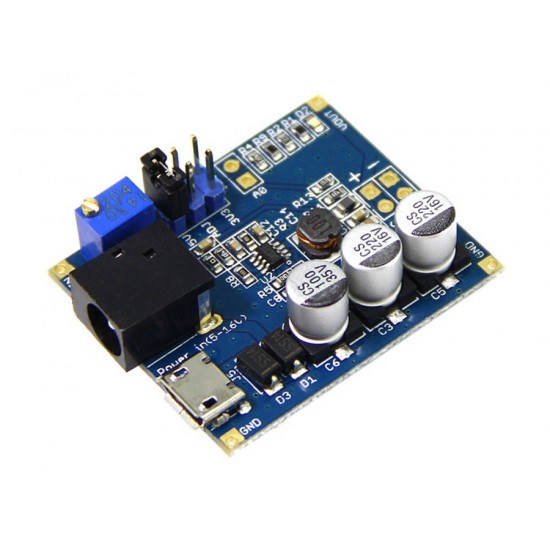 Adjustable DC/DC Power Converter (1V–12V/1.5A)
With the adjustable DC/DC power converter (1V–12V/1.5A), you no longer need to worry about using the right input voltage!
Including €0.01 for ecotax
DC/DC power converter: from 1V to 12V in the blink of an eye
Not all modules use the same voltage range, and your microcontroller cannot always adapt to their various requirements. The adjustable DC/DC converter reduces input voltage between 4.5V and 16V to a smaller voltage between 1V and 12V, capable of driving a 1.5A load with excellent line and regulation.
Technical specifications of the adjustable converter by Seeed Studio
Input voltage: 4.5-16V
Output voltage: 1–12 Vdc
Consumption: 0.5–1200 mW
Adjustable resistive load
Max. output current: 1.5A
Output ripple: ≤ 100 mV
Switching frequency: 500 kHz
Operating temperature: -40°C to 125°C
Dimensions: 36 × 30 × 10 mm
Resources for the DC/DC step-down converter
Don't get started without checking this detailed wiki page about the adjustable DC/DC power converter (1V–12V/1.5A)
Customers who viewed this item also viewed