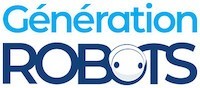 My Cart
0
item(s)
-
€0.00
There are no more items in your cart
Imagined and built by engineers who participated in the creation of the Mars Rover, the Leo Rover is a mobile all-terrain and waterproof robot, open-source and based on the Raspberry Pi. This robot was developed by the company Kell Ideas, which has been building Mars rover prototypes since 2013.
Designed for exploration and research missions, the Leo Rover is equipped with a 4-wheel drive capable of adapting to the most complex terrains. The Leo Rover can be remotely controlled via a tablet, mobile phone, or computer connected to a WiFi network.
The mobile Leo Rover can be used in various missions, including terrain mapping, environmental monitoring, sample collection, and scientific research. It is also designed to be easily customizable and scalable, with the ability to add additional sensors, cameras, and robotic arms to meet specific user needs.
Leo Rover's Key Features:
Up to 4 hours of autonomy
Open-source and based on ROS
Robust and waterproof design
5 Mpx camera and live streaming
Payload of 5 kg
In this construction kit, the small Leo Rover mobile robot bares all, from A to Z. The Leo Rover Developer Kit allows you to assemble the robot's essential components. With internal Raspberry Pi, powerful controller and ROS-based software you're ready to begin programming!
Delivery within 6 weeks
The Leo Rover is a mobile research and educational robot running on a Raspberry Pi 3 that you can customise at will thanks to a wide range of modules!
Delivery within 3 weeks
Make sure you have an extra Leo Rover battery in case you need a back-up power supply for your mobile robot!
Delivery within 3 weeks