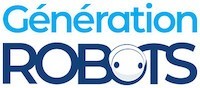 My Cart
0
item(s)
-
€0.00
There are no more items in your cart
List of products by brand Trossen Robotics - Spezialist für Roboterarme-bausätze
Trossen Robotics has been an online retailer of robotics and electronic goods since 2004. They specialize in robotics products for the educational, hobby, research, competition and entertainment/edutainment markets.
Founded in 2005, Trossen Robotics is an American E-commerce company that sells electronic products for robotics. Trossen Robotics distributes robotic products for education, research and industry. They have developed different product lines:
Interbotix robotic arms: designed for education and research, these robotic arms are available in different models: 4, 5 or 6 degrees of freedom and payloads ranging from 50 to 750 g. ROS and ROS 2 compatible, all arms in the series are open source. They are great tools to learn automation and artificial intelligence.
Hexapod kit: built with 18 programmable servomotors, this 6-legged creature features impressive movements agility and accuracy.
Turret: ideal for experimentation and robotics, this easy-to-build kit is based on the Arbotix controller board (programmable in C using the Arduino IDE)
Sorry for the inconvenience.
Search again what you are looking for