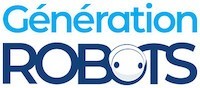 My Cart
0
item(s)
-
€0.00
There are no more items in your cart
Set of 200 M2x3 wrench bolts for Dynamixel Servomotors
A set of 200 M2x3 Wrench Bolts especially designed to fix your RX Series Dynamixel servomotors.
Set of 200 M2x3 wrench bolts for Dynamixel Servomotors: to fix your robots parts firmly
This 903-0060-000 set includes 200 M2x3 screws, Wrench Bolts type. These high quality wrench bolts by Robotis are ideal to assemble and disassemble parts around your Dynamixel servomotors.
To make sure the nuts stay tightly in place, it is possible to use a special glue: the loctite.
Compatibility of the M2x3 wrench bolts with the Dynamixel servomotors
The M2x3 Wrench Bolts have been engineered to tightly fix the RX servomotors to their frames, which is especially needed for :
Robots that require a high speed servomotor (RX-24F)
This Wrench Bolts set for RX series Dynamixel is alo compatible with the Robotis N1 Nut M2.
Technical specifications for the Set of 200 M2x3 wrench bolts for Dynamixel Servomotors
Set of 200 M2x3 Wrench Bolts
Compatible with the RX series Dynamixel
Compatible with the Robotis N1 Nut M2
Customers who viewed this item also viewed