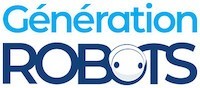 My Cart
0
item(s)
-
€0.00
There are no more items in your cart
Pack of 200 M2.5×6 Screws for Dynamixel Servos
One thing's for sure, with this Pack of 200 M2.5×6 Screws, your Dynamixel servos won't be going anywhere!
Pack of M2.5×6 Screws for Dynamixel Servos: everything in order!
The 200 M2.5×6 screws in this pack are Wrench Bolt M2*3 screws designed to be used with M2.5 nuts.
Beware, mounting and removing your servomotors too often can lead to play in their fixings or impaired solidity.
If you wish, you can use a special glue (Loctite or similar) to strengthen the screws' grip on your Dynamixel servomotors.
Pack of M2.5×6 Screws for Dynamixel RX Servos
This pack of 200 Wrench Bolt M2.5×6 screws is especially suited to mounting your Dynamixel RX-series servos. Dynamixel RX servos are particularly effective for building robots that require fast servo motors with good torque.
Technical specifications of the Pack of 200 M2.5×6 Screws for Dynamixel Servos
Pack of 200 Wrench Bolt M2.5×6 screws
Compatible with Dynamixel RX servo motors
Compatible with M2.5 nuts
Customers who viewed this item also viewed