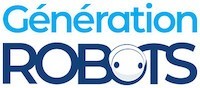 My Cart
0
item(s)
-
€0.00
There are no more items in your cart
Pack of 200 M2.5×4 Screws for Dynamixel Servos
An essential accessory for fixing your Dynamixel servos, this Pack of 200 M2.5x4 type screws will allow you to work on many more robotics projects!
200 M2.5×4 Screws for Dynamixel Servos: 200 robust fixings!
The 200 Wrench Bolt M2.5x4 Dynamixel screws contained in this pack will ensure all the components you mount on mobile robots operated with servo motors are nice and solid.
To further strengthen your fixings, you can also use a special glue in addition to the M2.5x4 screws, especially if you intend doing a lot of mounting and removal, which can impair their gripping power.
Pack of 200 M2.5×4 Screws: for your Dynamixel servos!
Servo motors are generally fixed on your robot's mobile and/or articulated parts. The M2.5x4 screws and the M2.5 Nuts are designed especially for fixing your Dynamixel RX-series servo motors, used often for Bioloid robotics kits.
Technical specifications of the Pack of 200 M2.5×4 Screws for Dynamixel Servos
Customers who viewed this item also viewed