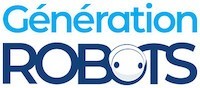 My Cart
0
item(s)
-
€0.00
There are no more items in your cart
S2 Bolt PHS M2*8 (50 pcs)
Add this 50 pieces S2 PHS Bolt M2*8 kit for Dynamixel servomotors to your roboticists' toolbox.
S2 Bolt PHS M2*8: Fix your servomotors securely
With these 50 S2 Bolt PHS M2*8, you guarantee solid mountings to your Dynamixel servomotors. The metal screws have been designed to provide adequate grip suitable for setting up and taking down repeatedly without any damage. To strengthen your mountings, you can also use specific glue which will thereby increase your robotics equipment lifetime.
With 50 bolts, you will have plenty to mount all servomotors you need on your robotics projects.
50 S2 Bolt PHS M2*8 for Dynamixel servomotors: Compatibility
This 50 bolts Dynamixel batch is designed for mounting AX-range Dynamixel servomotors. You can use them in particular for mounting AX-12 or AX-18 servomotors on the Bioloid robotics kits.
Technical specifications of the S2 Bolt PHS M2*8 (50 pcs)
50 S2 Bolt PHS M2*8
For AX-range Dynamixel servomotors assembly
Customers who viewed this item also viewed