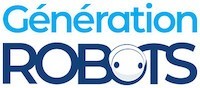 My Cart
0
item(s)
-
€0.00
There are no more items in your cart
Get a quote in only 3 steps!
1. Add the items you are interested in to your cart
2.Go to your cart
3.Click on GENERATE A QUOTE
Your quotations are available online on your customer account.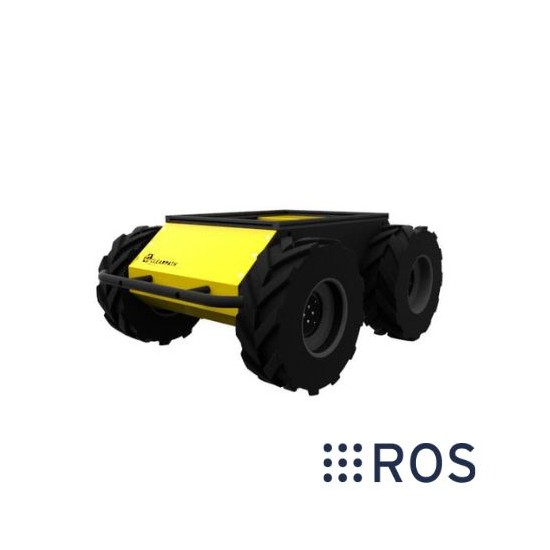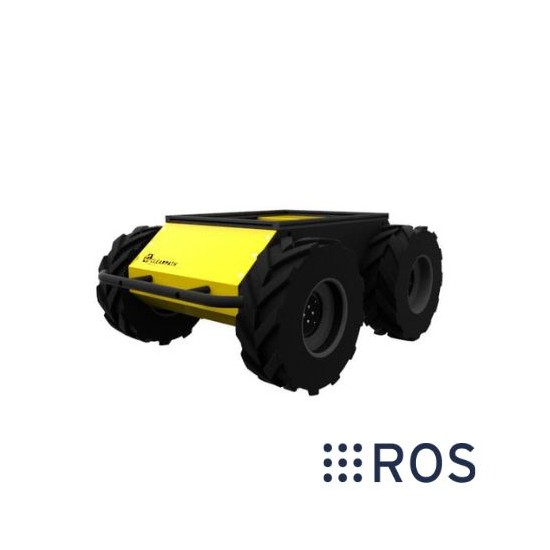 Husky A200™ UGV mobile base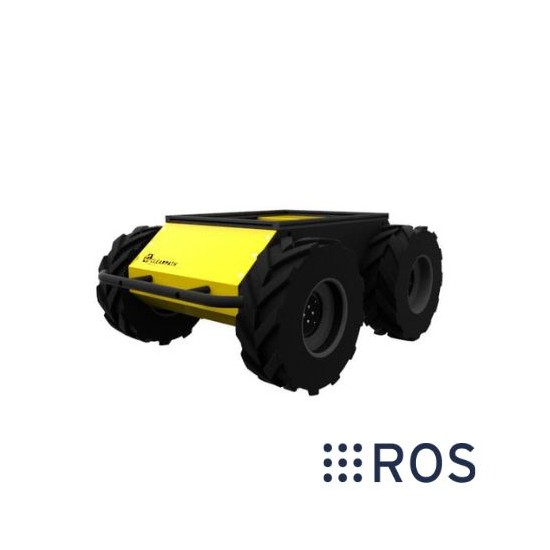 Clearpath Robotics |
A-000000-06393
Payment methods
(see T&C)
Husky A200™ UGV mobile base: You can now explore the great outdoors
The Husky A200 mobile robotic base has been designed to perform in the toughest environments. Coming with a powerful and no-maintenance four-wheel drive, High impact tyres, one of the most favourable gound clearance available, the Husky A200 mobile robot will add a new dimensions to your field robotics.
Husky A200™ supports robotics open source software standard: ROS
You can now use a simpler way to program complex systems thanks to the ROS (Robot Operating Systems) standard or LabView Robotics from National Instruments.
The Husky A200 Husky mobile base has been the first field robotics platform to natively support ROS. You will find it easy to find tutorials and demos to help you get started quickly. If you find yourself stuck or looking for help in your programming, you can turn to experts sharing their real-life expertise within the ever-growing ROS community.
Don't hesitate to help yourself with the sample code library freely available to start your research and take part in the community by sharing your code with other users of the large users community of Husky A200 mobile robot users.
Husky A200 uses an open source serial protocol. You will have access to all raw data without being blocked by proprietary system. ClearPath robotics offers API support for ROS and options for C++ and Python on Husky mobile robot.
Husky A200 UGV mobile base hardware customisation options
Have you ever been forced to change your whole setup in the middle of a research project? The hardware modifications that you will do on your Husky mobile robot can be done in the blink of an eye thanks to adaptable payload tools, easy access to 5/12/24 V power supply and inputs/outputs that can be easily reconfigured. A mobile base prototyping has never been easier or faster.
Husky A200™ UGV mobile bases have already found their places in the following prestigious universities
Applications of the Husky A200 UGV mobile base
Multi-robot systems
The Husky A200 mobile base has been designed with a scalable architeture, turning it into the ideal platform for testing and deploying systems on many robots simultaneously.
Perception and navigation
You can improve estimation state thanks to the vehicle tuning control parameters, high precision odometry measures and diagnostic systems.
Manipulations
The Husky A200 unmanned ground vehicle mobile base can easily interface with many industrial type of robotic arms for teleoperation or manipulation purposes.
Teleoperation
The Husky A200 mobile base is delivered ready-to-install for all activities involving teleoperation. You just need to get your wireless controller connected and get started quickly!
You will find a compilation video for navigation strategies tested on a Husky A200 mobile robot using ROS (Robot Operating System).
Technical specification of the Husky A200 UGV mobile base
Dimensions and weight
External dimensions (L x W x H): 990 x 670 x 390 mm (39 x 26.4 x 14.6 in)
Internal dimensions: 296 x 411 x 155 mm (11.7 x 16.2 x 6.1 in)
Weight: 50 kg (110 lb)
Wheels: 330 mm (13 in) Lug tread
Ground clearance: 130 mm (5 in)
Speed and performance
Max. payload: 75 kg (165 lb)
All-terrain payload: 20 kg (44 lb)
Max. speed: 1.0 m/s (2.3 mph)
Drive power: 4 x 4 wheels with no maintenance
Max. climb grade: 45° (100% slope)
Max. traversal grade: 30° (58% slope)
Battery and power system
Battery chemistry: SLA (Sealed Lead Acid)
Capacity: 24 V, 20 Ah
Standby runtime: 8 hours
Nominage usage runtime: 3 hours
Charge time: 4 hours
Power supply: 5 V, 12 V, 24 V (fused at 5A/ea). 192 W total power (option: upgrade to 480 W available)
Interfacing and communication
Control modes: Direct voltage, wheel speed, and kinematic velocity
Feedback: Battery voltage, motor currents, wheel odometry, and control system output
Communication: RS232 @ 115200 baud
Encoders: Quadrature: 78,000 pulses/m
Drivers and APIs: ROS, C++, and Python
Environmental
Operating ambient temperature:-10 to 30 °C (14 to 86 °F)
Storage temperature: -40 to 50 °C (-40 to 122 °F)
Rating: IP 44 (upgrade to IP 55 available)
Husky A200™ UGV mobile base resources
You will find below all the resources about a Husky A200 UGV Mobile Base.
STARTER PACKAGE
The Husky package comprises essential elements that include a mini-ITX with Linux and ROS, already installed, along with a top plate that enables effortless attachment of sensing, manipulation or computer hardware. By linking the sensors to the onboard computer and utilizing Husky-controlled power supplies, you can initiate your work without any complexity.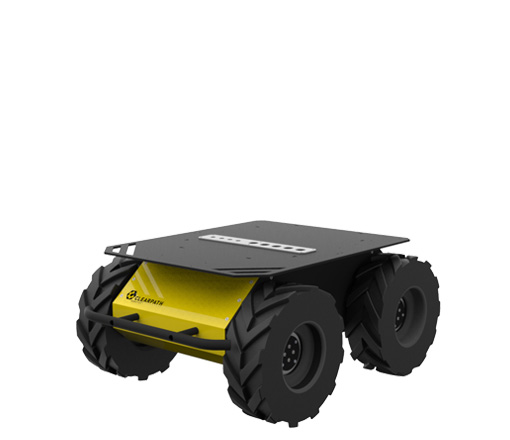 EXAMPLE APPLICATIONS
Ground up robotics research and development

Integration of sensors, manipulator or scientific equipment
INCLUDED ACCESSORIES
Mini ITX computer

Top plate

Open IMU

Gamepad controller

Spare Battery
ACCESSOIRES EN SUPPLEMENT
LMS 111 laser range finder

M5525-E PTZ outdoor dome camera

VLP-16 3D LIDAR

SwiftNav Duro GPS
EXPLORER PRO PACKAGE
The Explorer Pro Package is an upgraded version of the Explorer Package, offering advanced features and enhancements that make it a superior autonomous outdoor platform. With the help of advanced sensors, it can cover long distances. A 50m SICK LMS-151 LIDAR facilitates mapping and terrain quantification from a distance, while a pan-tilt-zoom IP camera allows tele-operation from afar. The Husky in this package has an IP55 weather-resistant upgrade that makes it suitable for outdoor use, and the lithium battery pack is upgraded, doubling the system's run-time.
EXAMPLE APPLICATIONS
Outdoor autonomous navigation

Remote inspection and long distance tele-operation

larger scale mapping and localization
ACCESSOIRES INCLUS
GPS, IMU, and Mini ITX

Clearpath base station

Lithium battery

LMS-151 LIDAR

IP55 weather proofing upgrade
FEATURED UPGRADES
FLIR Blackfly camera

UR5 Universal Robotic Arm

Robotiq 3 finger gripper

Robotiq FT 300 force-torque sensor
MAPPING PACKAGE
The Mapping Package is an advanced upgrade that enables large-scale 3D mapping and navigation with high precision. Equipped with a Novatel Inertial-GNSS navigation system, including a fiber optic gyro, this Husky can maintain accurate positioning even when the GPS signals are intermittent. Dual antennas further facilitate the determination of GPS-based true heading, ensuring high accuracy. A Velodyne 32e 3D LIDAR provides detailed perception of the surroundings. Additionally, a lithium battery upgrade prolongs the run-time of the system.
EXAMPLE APPLICATIONS
Outdoor autonomous navigation

Remote inspection and long distance tele-operation

larger scale mapping and localization
INCLUDED ACCESSORIES
Velodyne VLP-16 3D LIDAR

GNSS navigation system

Lithium battery
FEATURED UPGRADES
FLIR Blackfly camera

GNSS RTK navigation reference system
Interested? Ask for a custom quote