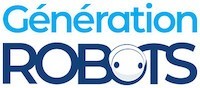 My Cart
0
item(s)
-
€0.00
There are no more items in your cart
The brand new Dynamixel XL-320 servo motor stands apart from the other Dynamixel servomotors Dynamixel servo motors for its small size and reduced performance. Robotis offers here a digital Dynamixel servo motor that can be used by the DIY community and for all those interested in rapid prototyping, in particular using 3D printing. The Dynamixel XL-320 servo motor is used for the Darwin-Mini.
You can find a Dynamixel servomotor comparison guide on our website, to help you select the right servo for your project.
Dynamixel XL-320 mini servo motor used for small robotics projects and fast prototyping. Comes with a 5" 3-pin cable.
In Stock
This set of 10 XL-320 convertible robotics cables are designed for users of Dynamixel servo motors in Arduino projects.
In Stock