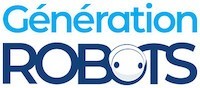 My Cart
0
item(s)
-
€0.00
There are no more items in your cart
List of products by brand Roboteq
Roboteq is a company specializing in designing and manufacturing motor controllers for robots and autonomous vehicles. Roboteq motor controllers are known for their reliability, precision, and ease of use.
These motor controllers offer advanced features such as DC motor control, BLDC motor control, AC motor control, position sensors, current sensors, digital and analog inputs and outputs. They also have safety features such as protection against overvoltage, overcurrent, and short circuits.
Roboteq motor controllers are available in different configurations to meet the specific needs of each application. They are compatible with a wide range of motors and sensors, allowing for great flexibility in the design of robotic systems and autonomous vehicles.
Programming Roboteq motor controllers is easy with user-friendly software that allows users to configure and program the controllers intuitively. In addition, online documentation and technical support are available to help users troubleshoot and maximize the performance of their systems.