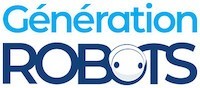 My Cart
0
item(s)
-
€0.00
There are no more items in your cart
Seekur Jr mobile robot
Seekur Jr brings the all-terrain, mobile research capabilities of the massive Seekur robot into a smaller and more affordable package. Robot mapping indoors and outdoors, autonomous navigation, load carrying, video surveillance... All your applications can be taken care of!
Seekur Jr: the ultimate all-terrain search mobile robot
The videos listed below provide an excellent insight into the capabilities of Seekur Jr, one of the best mobile robots designed by Adept for indoor and outdoor use.
On all terrain and in all weather, Seekur Jr follows its path without any help, avoid obstacles, climbs up steep grades (even under the snow) and can speed up to 1.2 meters per second. You can entrust Seekur Jr with heavy crates up to 50 kg: with its 4 wheel drive and its robust aluminium chassis, it will deliver your equipment where you want to.
Seekur Jr offers space for up to 2 EBX form factor on-board computers, and includes numerous ports for accessories that make it transformable at will. You can easily integrate video cameras, laser sensors or robotic arms with several degrees of freedom to create the Adept robot that suits your needs. Make the most of the Pioneer SDK to gain in mobility, interactivity and intelligence.
Learn more about the Seekur Jr in this video presentation
Possible uses of the Seekur Jr robot by Adept
Much lighter and smaller than Seekur, Seekur Jr is nonetheless an ultra-high-performance search mobile robot, no matter the applications and experiments you want to get on with.
Robot mapping: equipped with laser range finders, Seekur Jr can map both indoors and outdoors (with the optional MOGPS software) and allow you to develop itineraries.
Programming: Aria C++ provides you with a complete open-source code library.
Dynamic vision: use the MobileEyes interface to develop remote operations and create surveillance applications.
Technical specifications of the Seekur Jr robot
Platform:

Aluminium body
Dimensions: 105 × 84 × 50 cm
Weight: 77 kg
Maximum payload: 50 kg
Operating payload: 40 kg
Maximum speed: 1.2 m/s
Autonomy: 3 hours (continuous heavy use with on-board computers and lasers); 5+ hours (intermittent or light use)
4 wheel skid steering, differential drive
Turn radius: 0 cm
Swing radius: 52 cm
Max. traversable step: 12 cm
Max. traversable grade: 75%
Indoor use: tile and flooring (can damage carpets and mats)
Outdoor use: pavement, grass, snow, rocky terrain, sand
All-weather capable (IP: 54)
Control interface: command vehicle speed and acceleration/deceleration profile via included SDK, or optional autonomous dynamic navigation
Feedback: vehicle position, heading, velocity
Operating temperature: -5°C to 35°C (optional extended temperature -20° to 50°C)
Batteries (up to 3): 24V, 10 Ah NiMH, hot-swappable

Electronics:

Dedicated on-board control system performs velocity control and estimates position from movement
Quadrature wheel encoders and accelerometer automatically measure robot motion and position
Connection options: DGPS receiver, PTZ camera, 2 laser range finders, 3 stereo cameras and more
Export power: 5/12/24 Vdc, regulated

Communication:

Phytec MPC-565 microcontroller
On-board computer: wireless 900 MHz radio (or WiFi/LAN options)
RS232 serial connection
1 year guarantee (optional: 3 years)

The Seekur Jr base includes a gyroscope, a joystick, bumpers (4 front and 4 rear), one battery, and a 110/220V charger. It can hold up to three batteries.
Resources for the Seekur Jr mobile robot
To make your life easier, we've provided below all the technical data of the Seekur Jr robot:
Customers who viewed this item also viewed