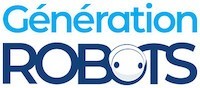 My Cart
0
item(s)
-
€0.00
There are no more items in your cart
Boxer Mobile Robot
Both robust and compact, the Boxer Mobile Robot is an indoor platform designed for developing robotic solutions and technologies. 100% ROS, it offers a wide range of possibilities for researchers and designers.
Including €4.17 for ecotax
An "out-of-the-box" indoor mobile robot
To get you started as quickly as possible on your robotics projects and designs, this mobile platform comes already equipped with various sensors essential for autonomous navigation: IMUs, encoders, front-facing stereo camera, LiDAR rangefinder, etc.
Used indoors, this 75 cm long robot will reach a speed of 2 m per second and is robust enough to handle loads of 100 kg thanks to its strong, solid metal chassis. Its 0° turning radius opens doors to the world of omnidirectional mobile robots. It includes an elevator that can reach a height of 5 cm with a maximum payload capacity of 100 kg.
Boxer Mobile Robot, a new development platform for Clearpath
The main advantage of this mobile robotic platform from Clearpath Robotics is that it allows a wide range of improvements and modifications:
This Clearpath mobile robot is designed to be able to integrate numerous sensors and electronic modules;
It makes prototyping easier because it offers accessible power and reconfigurable I/Os;
You can add various robotics accessories: grippers, robotic arms, cameras, range finders, etc.
It is an ROS-ready mobile robot and includes full support for Gazebo Physics Simulator, URDF, RViz and MoveIT! Motion planner. The application development possibilities are therefore endless...
Technical specifications of the Clearpath Boxer mobile robotic platform
Max. speed: 2 m/s Max. acceleration: 1 m/s² Integrated elevator: Height: 50 mm Capacity: 100 kg Turning radius: 0° Max. grade: 1%/0.5° Configuration/driving environment: differential/indoor Interface and communication: Customised interface: 3 Ethernet ports, 2 USB 3.0 ports, e-Stop extension, 12V regulated output (up to 10A), 24V regulated output (up to 10A), unregulated battery power supply (up to 10A), LED light control interface WiFi: 802.11 ac/a/b/g/n, 2.4 GHz, 5 GHz Sensors: LiDAR range finder with 10 m range and 260° field of view, front-facing stereo camera system, rear sonar, odometry Controllers and API: ROS, Gazebo, LED light control, RViz and URDF support Interface: emergency stop buttons, 360° RGB LED array Compatible accessories (not supplied): manipulators, grippers, cameras, stereo cameras, IMUs, 2D laser range finders, 3D laser range finders Battery and power: Chemistry: lithium-ion Capacity: 60 Ah 24V Power: 12V and 24V @ 10A Autonomy: 12 h Charge time: 4 h External dimensions: 750 x 550 x 304 mm Weight: 127 kg Max. payload: 100 kg Operating temperature range: 0-40°C
Boxer mobile robot integration with another robotic platfom
Boxer mobile robot can be fitted with different accessories, such as sensors, cameras, or a robotic arm. The 7-axis robot arm Panda can be integrated with the Boxer mobile robot using ROS.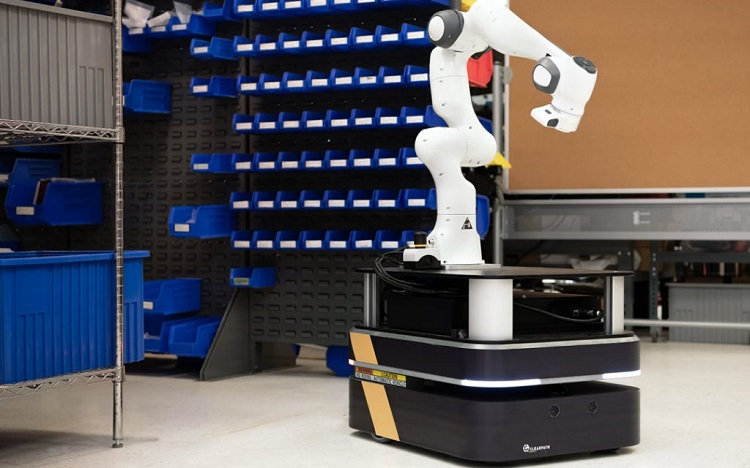 Resources for the Clearpath Boxer robot
You will find all the documentation for the Boxer Mobile Robot below:
Data sheet
Platform

ROS

Platform

Open-source

Usage

Indoor

Max. speed

6-10 km/h

Payload

100 -150 kg
Customers who viewed this item also viewed