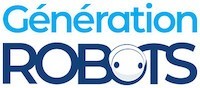 My Cart
0
item(s)
-
€0.00
There are no more items in your cart




58 mm Omnidirectional Wheel Chassis Smart Car Chassis Kit
Seeed Studio |
A-000000-04663
p>Assemble your own spacious robotic chassis with three omnidirectional wheels, you'll then have all the time you need to think of upgrades!
Omnidirectional mobile robotics platform: unleash your imagination
This robotics kit by Seeed Studio consists of a circular chassis equipped with 3 motorised omnidirectional wheels with magnetic encoders. The 3 DC motors are photoelectric.
The platform offers a maximum amount of space for installing programming boards,robotics sensors, camera type accessories, speakers, etc. In short, everything a mobile robot designer needs to create a truly innovative and exciting vehicle.
Technical specifications of the 58 mm omnidirectional robotic chassis
Electrical characteristics of the magnetic encoders:
Voltage: 2.7-5.5V
Output saturation voltage: 700 mV max.
Output leakage current: 10 µA max.
Supply current: 10 mA max.
Output rise time: 1.5 µs
Output fall time: 1.5 µs
The kit contains:
1 metal chassis
1 acrylic chassis
3 DC motors
3 omnidirectional metal wheels
3 metal motor mounting brackets
3 x 4 mm couplings
1 screw and nut kit
Customers who viewed this item also viewed