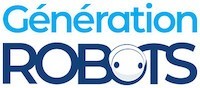 My Cart
0
item(s)
-
€0.00
There are no more items in your cart
Discover our sales on our "prototyping and DIY" range. Find a spot in your house and get starting on some exciting projects!
This special offer ends on February 16, 2021.
Check out all the new possibilities of the Raspberry Pi 4 microcomputer with this 2 GB kit, including 32 GB of additional memory to boost your machine.
In Stock
Everyone's heard of the Raspberry Pi and its multiple accessories for electronic creations. But have you ever used them? This Raspberry Pi 4 kit is designed for beginners!
In Stock