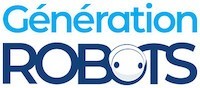 My Cart
0
item(s)
-
€0.00
There are no more items in your cart
Scout Mini Autonomous Mobile Base - Mecanum Wheels
In the family of fast and agile robots, Scout Mini from AgileX is a true champion. It is compact, handy, all-terrain and lightweight. Armed with its Mecanum wheels, it becomes a real competition beast!
Scout Mini + Mecanum wheels: high mobility
If you don't know anything about the Scout Mini mobile platform, yet, here it is in a nutshell:
An all-terrain profile with the ability to overcome obstacles up to 7 cm high and slopes up to 30° ;
A maximum speed of 20 km/h unloaded, making the Scooter Mini the fastest AgileX robot ;
Independent suspension and differential steering with no minimum steering angle.
In short, the mobile robot Scooter Mini is an ace on the road: it provides an extremely smooth ride both indoors and outdoors. All that remained was to boost its robustness with the addition of these 4 Mecanum wheels, which allow it to go from a maximum payload of 10 to 50 kg. The interesting thing about this new feature is not only to use the Mini Scooter as a full-fledged UGV transport unit, but also to significantly increase its level of equipment.
A ROS mobile robotic platform to exploit
What to do with that 50 kilos of payload? Think about the new peripherals to take on board your Scooter Mini: industrial robotic arm, weather station, LiDAR laser rangefinders, IMU, display screen…
The possibilities are numerous and are mainly facilitated by the CAN/RS232 interface, which not only allows optimal tracking of navigation data, but also the addition of robotic equipment for exploring, monitoring, experimenting, hacking or learning.
Technical specifications of the Scout Mini with Mecanum wheels
Included:
1 SCOUT MINI robot body
1 Battery charger (AC 220V)
1 Aviation male plug (4-Pin)
1 USB to CAN
1 RC transmitter
Dimensions: 627 x 550 x 252 mm
Weight: 20 kg
Climbing Ability: 30°
Obstacle surmounting Capacity: 70 mm
Payload: 50 kg with Mecanum Wheels
Max Work Time: 20 km
Max Speed: 5 km/h
Minimum Ground Clearance: 107 mm
DC brushless 4 X 150W
Independent four-wheel drive
Four-wheel differential steering
Independent suspension with rocker arm
Minimum turning radius: 0°
Protection Level: IP22
Communication Interfaces: CAN, RS232
Servo brake/anti-collision tube0
Scout Mini Robot Resources
Find the online guide for the Scout Mini mobile base: specifications, start-up, programming, etc.
Data sheet
Platform

ROS

Usage

Outdoor

Max. speed

15-25 km/h

Payload

50-60 kg
Customers who viewed this item also viewed