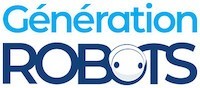 My Cart
0
item(s)
-
€0.00
There are no more items in your cart
Get a quote in only 3 steps!
1. Add the items you are interested in to your cart
2.Go to your cart
3.Click on GENERATE A QUOTE
Your quotations are available online on your customer account.
NAO Presenter application
Génération Robots Lab |
A-000000-01375
A behaviour to install on
your NAO robot
so it will greet members of the public and carry out presentations you have designed. This behaviour is ideal for any organisation that has to receive members of the public and wants to stand out from the others as regards its innovation and technology capacity. The NAO robot attracts the public and performs interactive presentations that can include images, sounds, video, and quizzes.
Payment methods
(see T&C)
NAO Presenter: A behaviour designed for professionals welcoming members of the public
The NAO Presenter application is the first B2B application designed for the NAO robot. This behaviour lets you use NAO as a welcome robot in all places receiving the public. As its name indicates, NAO presenter performs interactive, entertaining, innovative presentations according to content that you can design and update completely independently. Standing beside a large-screen display, NAO runs and controls PowerPoint presentations which it presents contextually, like a human presenter, when it detects and attracts a visitor.
The latter has a choice between several presentations and can interact with NAO via movements or images in the form of cards that NAO can recognise. At any moment during the presentations, NAO can start a quiz (which you will have also designed) in order to test the visitor's understanding of the presentation.
Its movements and speech are synchronised with the PowerPoint slide show (since it's NAO who is in control of it), giving the presentation unrivalled reality and bringing it to life.
Lifelike behaviour
Throughout the behaviour, NAO's movements are synchronised with what's happening on screen. What's more, NAO looks the visitors in the eye while it is running the presentation, can run sounds or videos during its presentations, and can dance to the music – creating a matchless user experience.
Breathe a little innovation into the way you welcome the public and promote your brand thanks to NAO presenter.
Why NAO presenter?
Using the NAO presenter behaviour offers many advantages for your organisation. Quite apart from the fact that this behaviour has been produced by recognised professionals in robotics and man/robot interaction, the behaviour has been proven under real conditions by our teams and our customers, thereby ensuring maximum effectiveness and customer satisfaction.
NAO is a friendly, appealing robotic companion
Left alone, the robot is intriguing and naturally draws the public, with whom it then interacts.
Creating and updating content is easy and doesn't require any special skills
The behaviour is compatible with all the languages offered by NAO.
Robot security: our development teams have taken into account robot security and the risk of its falling. NAO's behaviour is automatically adapted in the event of low battery or excessive motor temperature. Likewise, marks on the floor enable NAO to reposition itself automatically at regular intervals.
Examples of how to use the NAO presenter behaviour
This behaviour is designed for any organisation that receives the public, e.g.
Museums
Shopping centres
Shows
Civic offices
Company reception areas
Features of the NAO presenter behaviour
The following functions are possible:
When NAO is left on its own without any spectators, it "keeps itself busy" and seems to have a life of its own. This autonomous behaviour arouses visitors' curiosity.
Its embedded camera detects people passing by.
NAO looks at people and asks them to come and watch a number of presentations.
NAO offers up to 6 presentations displayed on the screen.
NAO runs the selected presentation. It is a PowerPoint that can include text, images, audio, and videos. NAO controls the slideshow and all the aspects of the presentation, such as NAO's gestures, what it says, and what is shown on the screen, are synchronised.
At any moment, NAO can start a quiz with one or more questions in order to make the presentation more interactive.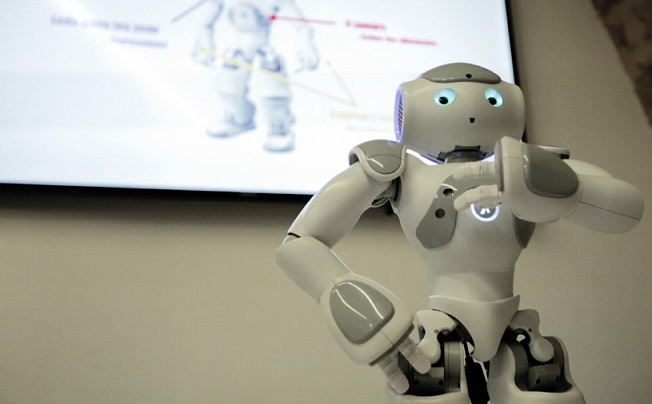 An easy-to use set-up
Software set-up: create and update content
One of the strengths of this behaviour for NAO is the ease with which content can be created and updated. Because we understand that you need to be able to adapt content to events in your organisation, we have made it easy for you to create and update it.
A presentation comprises content resources (a PowerPoint and possibly audio files and video files) and an XML file. This XML file contains the script for NAO and its movements during the presentation (whether it points to the screen at a specific moment, whether it laughs, whether it dances, etc.) and the information allowing all the elements to be synchronised together. Learning to use this operation does not require any programming skills.
It is enough to simply be familiar with the usual office computing tools. In addition to the clear, illustrated documentation, a number of generic presentations are supplied for you to get the hang of it.
Tools are also supplied for trying out your presentations as you are creating them, which make it possible to reduce the time taken to produce presentations.
Hardware set-up: hardware required
To use NAO presenter, you will need:
A NAO robot (compatible with version 4, 5 and 6 of the NAO robot)
A large-screen display
A PC running Windows with an active licence for PowerPoint (version higher than PowerPoint 97)
The PC is used to drive the screen. The PC is linked to NAO via Wi-Fi.
Customer references for NAO presenter
The following customers have implemented our system:
| | | |
| --- | --- | --- |
| Stanwell | BMCE Bank | Derichebourg |
The behaviours designed by GR Lab
What is a NAO behaviour?
A behaviour is a group of software programs that allow a robot to accomplish a task while interacting with people.
Human/robot interaction is at the heart of the behaviours designed by GR Lab
This behaviour was developed by our teams at GR Lab, Génération Robots' service and integration department. The development teams who designed this behaviour have been running official NAO training sessions on behalf of Aldebaran Robotics since 2012.
The GR Lab teams have recognised expertise in man/robot interaction (MRI), as reflected in the lifelike, fluid interaction of the NAO robots using this behaviour.
The GR Lab teams have also designed:
NAO plays Connect 4
NAO plays Poker
NAO plays football
Resources for the "NAO presenter" application
You will find below a document introducing the "NAO presenter" application:
Customers who viewed this item also viewed